South Florida's Best and Brightest
Originally published: Friday, April 1, 2011 (12:01:09 a.m. ET)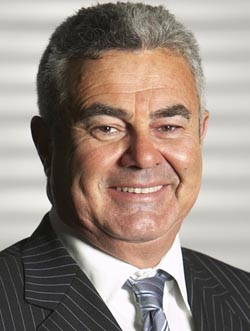 Auto dealer Craig Zinn. (Photo courtesy of The Craig Zinn Automotive Group).
Craig Zinn
He routinely has been outselling his peers for more than three full decades because of an unquestioned ability to think differently, to think smarter, than everyone else in the marketplace. To wit, look no further than Lexus of North Miami Beach, the crown jewel of his nine-store South Florida automotive empire. The facility spans more than 1 million square feet, and it reeks of luxury in every nook. Ostensibly a car dealership, it has amenities most of the area's hotels lack. There is a spa, a fitness center, a juice bar, a concierge service, a children's play area, and massage therapy chairs. Craig Zinn is the visionary who conceived the idea and it's paying huge dividends, as he has garnered Elite of Lexus status by the manufacturer. Zinn set out in business in 1981 with but one location, Toyota of Hollywood; today, his highest-end model, the Spyker Laviolette Special Edition LM85, priced at $252,490, probably retails for about what his entire inventory was worth back then.
Q: What advice would you give youngsters who want to embark on a career in your industry?
A:
You have to be very people-loving. And understand the key element of the automobile business is service. You have to be a lady or a gentleman when you serve people. So it's critical to have great people skills, and that includes eye contact, verbal [acumen], how to dress, and how to look. With those gifts, there's nothing I could see that would be more lucrative than the car business.
Q: Of what professional accomplishment are you most proud?
A:
Winning the Haym Solomon Award from the Anti-Defamation League. It was a few years ago. Abe Foxman, who was the head of the ADL had found out about some of the things I was doing and what I believe in. I had the entire police department of the city of Hollywood go through the "World of Difference" training program to understand, not just anti-Semitism, but anti-everything-isms; how to learn to live in a world of one. I found it most rewarding because as a child, I grew up in a very discriminative environment in Miami. And when I later moved to North Miami Beach, it was such a contrast. I never forgot what my elementary school years were like.
Q: What's the most challenging part about your work?
A:
Dealing with the manufacturers. I was terminated by General Motors and that was a heartache. I truly believe that as an American who is selling thousands and thousands of cars a year, some of them should be American. Toyota, Lexus, and Acura are all built in America, but in my heart, I always wanted to be an American car dealer. As a predominant Pontiac dealer, when Pontiac was terminated, [GM] didn't see any worth within me to sell Buicks or their GMC trucks, which we had sold very well. We're very profitable in our other operations; we weren't exceptionally profitable in the GM world and we were chosen to go. I always regret not representing the American nameplate in the marketplace.
Q: What did you envision doing for a living when you were growing up?
A:
When I was a little kid, my brothers and I used to play "car lot." I have lived that dream. My father sold Chevys. I made car models and we used to line our car models up like the front line of the car dealership. We would always talk about how we would display our front line and about how we would get our cars ready for sale. My parents always wanted me to be a lawyer or a doctor, but my mother said that the bar of soap I had as a baby even had an engine in it and I used to putt it around the bathtub.
Q: In ten years' time, I will be _________________.
A:
Wiser. And certainly more involved in the family operations, running the business. And I expect to spend more time with my wife, either at our home in Utah, or in the beautiful Caribbean Sea. I like to fish, and honestly, I have not been fishing since my kids were infants.
Q: Who are/were your professional role models and why?
A:
My father and Roger Penske. My father had this incredible work ethic. Nothing was more important to him than to provide for his children, and the only way he could provide for his children was to have happy customers and happy employees. I've met [Roger] several times and I compete against him in several arenas. He wins all the time. He prepares, he's got the best people, and he has the best training. And, again, I idolize his work ethic and his belief that through the right people and the right work environment, you can win. And that's the name of the game.
Q: If you could do anything else in the world for a living, what would it be?
A:
Probably a ski instructor. It wasn't until I was 17 or 18 years old when I went to Michigan to go to college that I saw snow for the first time. I love going fast and going through turns. I have a bunch of high-performance race cars, but I don't have the confidence in my skills not to get killed on the race course like I do on the ski mountains.
Q: What's the best part about your job?
A:
The people. The accomplishment of watching people who I've hired as lot attendants and parts technicians and mechanics now run major portions of my company. They've all learned that my way isn't the best way. But it will give you the environment to make the best decisions, to not be afraid to make mistakes, to understand that through mistakes we learn, and with those mistakes, we get better. We originally hired the person who runs my entire company as a technician. Anybody in my organization can move to the top. I've married people and have christened their babies. I've become part of people's lives because they've become part of mine.
Q: What's the worst part about your job?
A:
Having people who you perceive as friends in the business world, whether they work for you or against you, to be the evil that we hear and speak about. I don't wish anybody bad. I don't go out of my way to be evil to anybody. And that's a way, I believe, we succeed. But we certainly have been exposed to people who are extremely evil, whose only intent is to destroy someone else's goodwill because they can't have it for themselves. Whether it's jealousy or just the perception of 'he's too smart.' Once again, we can talk about anti-Semitism or we can talk about racism of all types. When I see people discriminate against black people, I go crazy because I remember when it was the Jewish people or it was the Italian people. I go crazy. That's the ultimate outrage in life, to see that kind of injustice.
Q: What's the one most important thing that experience has taught you?
A:
Patience, hard work, and the importance of never forgetting your goal. Focus on your goal. Always have a $100 bill in your pocket and rub it when you're broke. If it's your last $100 bill, just know what it feels like and know why you're working so hard -- for the dollar. Don't forget it.
Q: What's the best career advice anyone has imparted on you?
A:
If you're going to be anything, be the best at it. Instead of being a policeman, be an FBI man. If you are going to be a Toyota dealer, then be a Board of Governor. If you're Lexus, then be a part of the Elite of Lexus. With GM, I was their Five-Star General Award winner, yet still got terminated. Whatever you do, strive to be the best at it, or someone else will.
Q: What one thing would you do different/better if you could start it all over again?
A:
We look at friends at a younger age as more important than our business and our economic development. If we would focus more on business and economics, the friends will come. Like, you could go to a business conference or you could hang out with your buddies. And you go hang out with your buddies and your career doesn't advance. The person who went to that business conference, they'll make the connections and move ahead. And animosity would develop where you'd say, 'But I'm better than him.' It was Muhammad Ali who said it best, "You've gotta have the will and the skill." That's why when I was a kid growing up on Miami Beach, seeing that little black guy run around, he motivated me. My father sold the first Toyota in Florida, and where we would go get the tags at the agency was downstairs from the Fifth Street Gym.
Q: What's your favorite South Florida charity?
A:
Right now, it's the
Young at Art Children's Museum
. My wife and I are heavily involved in getting the building off the ground. It's on I-595 and Griffin Road. My wife was an art teacher and I believe that through art, we express. My art is to make customers happy in the car business. Through that one particular charity, at least this year, I'm getting a lot of satisfaction because I'm seeing the building come out of the ground after so many years of fundraising. Also, I just met with [Miami Heat forward] Udonis Haslem, and we're going down to a homeless shelter that has about 400 families to offer tutoring to all of the kids who commit to getting good grades, and see if we can get some of the kids to one day sell cars or buy cars. We really want to help Udonis's foundation. I want to give the homeless kids as many educational opportunities as possible.