South Florida's Best and Brightest
Originally published: Friday, April 1, 2011 (12:00:03 a.m. ET)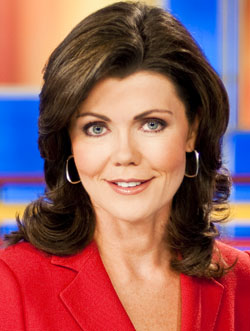 Channel 10 Weeknight News Anchor Laurie Jennings. (Photo courtesy of WPLG).
Laurie Jennings
It could successfully and rather easily be argued that she would stand out as the preeminent newscaster in virtually any one of the nation's 210 media markets. The assertion that she is unrivaled in South Florida, by now, simply cannot be challenged. Especially, that is, in a place where a competing network has one anchor co-host both an evening news telecast and a gossip-filled magazine program shortly thereafter. Three-time Emmy Award-winning reporter Laurie Jennings has been on-air in South Florida for 13 years, the first five at WSVN, the latter eight at her current place of employment, WPLG. In the interim, she toiled at the cable network MSNBC in New York City, hosting up to four hours of live programming each day. A government major at Cornell, Jennings completed her undergraduate work with high-honors before earning a master's degree in journalism from prestigious Medill at Northwestern. You can catch her every weeknight on Channel 10 at 6 p.m. and 11 p.m.
Q: What advice would you give youngsters who want to embark on a career in your industry?
A:
Get the best overall education that you can. So many young people want to major in journalism, thinking they have to study just that. Most of those skills can be learned in your first job. It's about getting the best education and coming out of the best university you possibly can. Any employer will value that you're coming out of an Ivy League school or a Big Ten school, where they know you've been challenged. Get exposed to everything. Study as much as possible. It really doesn't matter what you major in. And read, read, read. I think a lot of young people today don't read enough. Even if it's on your Kindle or iPhone, you have to read newspapers and magazines. If you want to do it on the Internet, that's fine, but you have to be aware of
The [Miami] Herald
,
The New York Times
,
The Los Angeles Times
, and
The Washington Post
.
Q: Of what professional accomplishment are you most proud?
A:
I always think back to the mid-1990s when I was in Cleveland. I was the weekend anchor and was head of the Specials Unit. I traveled to Armenia in the former Soviet Union with a photographer on a two-week medical mission. It was the most emotional, amazing experience I've ever had. All these doctors and nurses were there to fix children's hearts. For some reason in Armenia, children are born with an amazingly high rate of heart disease. They were performing surgery on tiny babies, and the electricity would go out and flies were flying around the O.R., and there were no screens on the windows. It was war-torn Armenia. We came back with so many tapes. I knew we'd be doing a five-part special, but when my bosses saw what I had, they asked me to do a half-hour special, too. I was the reporter, the producer, and the writer, and it was the first and only time in my career that a station gave me a half-hour of prime-time television and let me create whatever I saw fit. We called it "Hands Helping Hearts," and it has connected me to the Armenian community wherever I've traveled.
Q: What's the most challenging part about your work?
A:
The schedule. Juggling it all, especially with kids. You have to work really early mornings, or really late nights, and there's no way around it in TV news. I've done both. At least when you're single, you can do it all. I remember one day in Boston, I anchored every single newscast from morning until night, literally. I started at 5 a.m. and I was still on the air at 11:30 that night. You can push yourself and kill yourself when you're single. But, suddenly, when you're married and have children, it's so different. When I first got to Channel 10, we knew the Pope was going to pass away at any time, so I was on hold to go to Rome for about two months. Suddenly when it really happened, you have no idea how long you'll be away. I ended up in Rome for nine straight days -- producing, reporting, and anchoring. It was the longest I'd ever been away for breaking news coverage. When the tragic earthquake struck in Haiti, I was there days later. With little children at home, you have to race to get packed and prepared, but be careful that they don't sense the danger of where you're going. You also have to worry more about bringing home disease.
Q: What did you envision doing for a living when you were growing up?
A:
I remember wanting to be a teacher. Or a lawyer. Then, finally, by high school, I was the lead of almost every school play or musical, and I totally wanted to go to Broadway to be an actress and a singer. A few people told me to go to Julliard and forget Cornell or Brown. But I didn't have it in me. I couldn't give up an Ivy League education. My freshman year at Cornell, I saw an ad to become a radio deejay or newscaster. Once I started the news, it clicked for me. I knew it was the perfect combination of the performer and the writer in me. From my sophomore year in college, I knew TV news was it for me.
Q: In ten years' time, I will be _________________.
A:
If the wrinkles and the gravity don't take over, I'll be sitting in my anchor chair at Channel 10, coming into people's living rooms every night. My kids will be 15 by then, still complaining that I'm never home, never there to help with homework. It will be a juggling act, like it is now. But it's worth it when you love what you do.
Q: Who are/were your professional role models and why?
A:
Peter Jennings was always my role model growing up. About two years before he passed away, I got to meet him at ABC News. I was interviewing there. Growing up, I always found him to be the ultimate newsman. I loved his style. You knew as managing editor of the newscast that he had his hands in everything. When bad things happened, I would switch around among the Big Three [Brokaw, Jennings, and Rather]. He was the one who made me feel calmest. He had such a way about him. It was such a loss when he died, and I had just met him. He put out his hand and said, 'Hi. I'm Peter Jennings.' I said, 'Hi. I'm Laurie Jennings.' He looked confused. I said, 'Don't worry, no relation.'
Q: If you could do anything else in the world for a living, what would it be?
A:
Right now, with twin boys, I wouldn't be an actress or singer! I did envision a Broadway career for a while, but I can't imagine that with children. If I won the lottery tomorrow, I would just enjoy my twin boys. I'd volunteer with all the wonderful organizations I've been involved with through TV and I would relish every moment with these yummy five-year-olds. It's so hard now because I'm getting ready to put them in kindergarten, realizing they are going to be in school from 8 a.m. until 3 p.m., and I work from 2:30 p.m. until midnight. It's every TV parent's quandary.
Q: What's the best part about your job?
A:
I love being in the center of the action, always knowing what's going on, and most importantly, getting that information to people. Being the person the community trusts to inform them, that's what feels really good.
Q: What's the worst part about your job?
A:
The worst part is the negative news. That's what I hear a lot from people. They don't want to watch such negative stories. Having to bring such tragic news to people is hard. Recently, we've had so much tragedy: death, abuse, and neglect of children, and it feels horrible. Sometimes, you can't get around it. If that's what is happening in our community, we have to reflect that. You have to tell people what's going on.
Q: What's the one most important thing that experience has taught you?
A:
It's amazing how you finally "find yourself" on the air. And, for me, a big part of that was having children. I'm not saying everyone should rush out and have kids. But it's amazing how it grounds you, and it enables you to bring a whole other side of yourself on TV. The faster young people find their true selves, and really just be themselves, the faster they get that, the more successful they will be. Sometimes, it takes tragedy in life, and it takes life-experiences, life's ups and downs, to reach that point.
Q: What's the best career advice anyone has imparted on you?
A:
When I was at MSNBC, I got the opportunity to fill in on "The News With Brian Williams," and the executive producer of that show saw me writing all these questions for my live interviews. And he said to me, 'Don't script it. Write one or two questions. Know where you are going to start, and let the interview flow. Trust yourself.' It was great advice. You have to trust that you are a knowledgeable, smart person, and you can flow with interviews, and go with them where they need to go.
Q: What one thing would you do different/better if you could start it all over again?
A:
I tell young people that when I was coming up, I wanted to work my way up through small markets, ensuring I was always incredibly ready. I never wanted to feel unprepared. The business has changed so much. Stations are hiring younger, less-experienced talent; they're willing to take a chance on you. If I were starting out now, I would move faster. I would jump from station to station and go where the opportunities are. I wouldn't be so afraid of mastering everything before I moved on. Trust yourself, go for the best job you can, and climb up the ladder as fast as you can. The faster you get to a sizeable market where you can stay for the rest of your life, the more successful you'll be. You want to know your community. I've been here for 13 years and I'm still learning more and more history of South Florida."
Q: What's your favorite South Florida charity?
A:
United Way
. I've been involved with them throughout my career. From the minute I started in Youngstown, Ohio, in 1990, we would come clock in and we would actually get paid overtime to go to United Way parades and events. I saw how great United Way was, and I was hooked. When I went to Cleveland, and Boston, and MSNBC, every news station I have worked for has been involved with the United Way. I have been a board member for the past six years. It's such a great umbrella organization. It's not a charity, per se. When people don't know where they want to give their money, United Way is a great help. They are able to almost double through the government every dollar they get, and then they keep track of the many agencies throughout our community as to where the biggest impact is for seniors, for teens, for kids, and they dole out the dollars. They are wonderful.