South Florida's Best and Brightest
Originally published: Friday, April 1, 2011 (12:00:01 a.m. ET)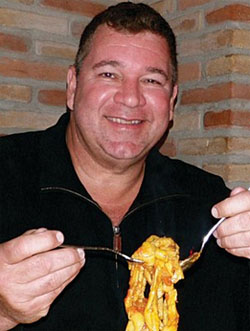 Radio personality and winemaker Paul Castronovo. (Photo courtesy of Big 105.9).
Paul Castronovo
After more than two decades representing one-half of the market's most hilarious and irreverent morning drive-time radio show, Paul Castronovo's name quite literally has become synonymous with South Florida. He gives the punch lines on-air as good as he absorbs them, to and from his broadcasting partner "Young" Ron Brewer, and together they reign atop the Arbitron ratings in their demographic (English-speaking men older than 18) on Big 105.9 FM in Miami and Fort Lauderdale, as well as on The Gater 98.7 FM in West Palm Beach. They can also be heard on Sun 103.1 FM in Key Largo and on Sun 99.5 FM in Key West. His latest endeavor is "Montepulciano d'Abruzzo," a red wine produced at his very own Italian vineyard that retails for about $15 per bottle, and is available at all Total Wine locations and most fine restaurants in the area. You can catch the side-splittingly funny "Paul and Young Ron Show" every weekday from 6 a.m. until 10 a.m.
Q: What advice would you give youngsters who want to embark on a career in your industry?
A:
Go into insurance. While it's been an amazingly lucrative and tremendous career for me, and still going strong, I think the industry has changed so much. Companies aren't nurturing talent like they used. Back in the old days, they'd take a crazy guy with a personality and stick him on the radio at night when he was young, grooming him to be the next great morning show. It's not happening any more. There's been consolidation. There are only a few companies that own all of the radio stations. And the Internet is where people are getting all of their music. So companies are leery of putting talent on the air. It's just a bunch of jukeboxes. In the last three years, thousands of really talented people were let go. If you were starting a career right now, you'd be battling people with 20-year careers who are out of work. But I speak to broadcasting kids all the time, and I say there's always going to be a job if you're a great talent. If my son said he wanted to be in radio, I'd give him every opportunity, but I'd be a little leery.
Q: Of what professional accomplishment are you most proud?
A:
I have had awards and ratings successes, and we were nominated for Morning Show of the Year (by "Radio and Records" magazine), and that's a big deal. But my biggest success has been our show's longevity. I'm really proud of that. Longest-running morning show in the history of South Florida. We're at 21 years and counting. There are only a few guys in the country I know who have accomplished that. A couple of guys in San Diego and a friend of mine in Boston. The secret was marrying our market. If you can be consistently funny, which is what our audience has always wanted, you'll have ratings success. That translates into dollars for the company and everyone's happy. I know a lot of guys who've had to move every three years; that's not me.
Q: What's the most challenging part about your work?
A:
Aside from waking up early? The ratings. When you do mornings like we do, everyone is throwing their big guns at you. Their best talent, their biggest radio promotions. All of their television ad dollars. It's all aimed at promoting their morning shows. So we're always having to compete against everybody's best, and we're always having to evolve and sometimes step back and look at what we're doing. Staying at the top is the toughest part.
Q: What did you envision doing for a living when you were growing up?
A:
My friends freak out that I'm in radio because when we were in New York as six-, seven-, and eight-year-olds, we were avid baseball and Mets fans, and we would watch these games. And I would turn the sound down and tape myself doing the play-by-play on my dad's reel-to-reel tape player in the 60s. I would imitate the Mets announcer. So we all thought I would be a baseball announcer. Then I got to college and I wanted to be on "Saturday Night Live." But I had no acting training or comedy training. I'm at the University of Florida, and of course, there is no class on how to be on "SNL." So I went to the news department, and they quickly ran me out of TV news because everything I did had a funny slant. They said, 'No, you don't understand, you need to be serious.' Thankfully, I ended up at the FM radio station in Gainesville, where I was paid to do funny things.
Q: In ten years' time, I will be _________________.
A:
I asked Ron this when I was looking over the questions, and he said that I'd be dead. In ten years, I'll have a 21-year-old in college, so it looks like I'll still be working. However, my wife and I have a vineyard in Italy, in Abruzzo, and if this wine business takes off like we suspect, I'm thinking that in ten years, I'll be in a villa somewhere in Italy, doing the radio show, piping it back here.
Q: Who are/were your professional role models and why?
A:
I didn't grow up with radio heroes. I really don't even remember listening to morning radio. For me, it was Johnny Carson and David Letterman. I learned from Johnny how to wait for the laugh, and that it doesn't hurt to be self-deprecating. He was the best at making fun of himself. If a bit he was doing was dying, it was funnier. Letterman taught me it's okay to be silly. You don't have to take yourself too seriously. My dad always played Mel Brooks and Carl Reiner's "2013-Year-Old Man" sketches. I used to imitate the voices, so I have to think that those were early role models for me. Once I jumped into radio and realized it's a business, there was a guy in Dallas named Kidd Kraddick who's now syndicated on about 60 stations, and back in the early 90s when I started to get rolling, he created a radio prep service that a group of us joined and we followed in this guy's career model. He did a lot of things correctly. I took a lot of his advice over the years.
Q: If you could do anything else in the world for a living, what would it be?
A:
TV chef. I love to cook. I'd be one of these guys like Emeril [Lagasse] or Guy Fieri. I've watched these guys amass these $100 million fortunes. They've become industries just in the last ten years. With my personality, and my lifestyle -- my wife and I love to entertain and to go out -- I would have been a perfect TV chef. But it didn't work out that way.
Q: What's the best part about your job?
A:
Laughing for four hours a day. I don't know too many people who get to do that. We have moments where we're not laughing. But that's our goal, to chuckle at stuff. My wife is a breast cancer survivor, then she was in a horrific car accident a couple of years later, and the only sane hours of the day were when I was on the radio. It's an escapism for me. It made the sadness and the suffering that we were going through at home okay for those four hours. I never dread coming to work. How many people can say, 'I interviewed Lewis Black today?' or 'I interviewed Tom Cruise today?' or that they cooked for Emeril?
Q: What's the worst part about your job?
A:
The alarm clock. There is nothing positive about 4 a.m. I don't care who you are or what you do. You just don't get used to 4 a.m. Sometimes, friends want to go to dinner on a Wednesday, and I can't. It would be 8:30 at night, and I'm winding down. It's difficult. When you get up at four, you're always tired.
Q: What's the one most important thing that experience has taught you?
A:
I get 50 million people critiquing my show. I have consultants questioning what I do every day. Program directors, listeners writing notes saying they don't like this or they don't like that. Sales managers, general managers. What I do is take all of the opinions in, filter them, and then I have to trust myself. Ultimately, I have to make the final decisions as to what works on the air and what does not. Recently, some guy came into town and he listened to the show for ten minutes. He's a bigwig with the company and he made some comments. You need to listen to the body of work for a few weeks. We do four hours a day, five days a week. His comment was that I was interrupting Ron too many times. I told Ron that, and he goes, 'We've been doing that for 20 years.' That's what I get paid to do. I work harder today after 20 years, than ever in my career. I think it's because when you're at the top, you have to work a little bit harder to stay there. The more successful you become, the harder you have to work.
Q: What's the best career advice anyone has imparted on you?
A:
Find the market you want to be in and marry it. Early in my career, I was playing the game where I started in Gainesville, then I moved to Lauderdale, then I took a job in Orlando, and I got fired from there, and I went to Nashville, then I came back to South Florida. Somebody told me I need to embed myself in this market. Once I got into South Florida and I heard that bit of knowledge about marrying your market, that's what I did. I started doing every charity event available. I was the hometown guy rooting for all the teams. What did I know about the history of Nashville? I didn't know anything about these people, how they felt, what they thought. In South Florida, I know everything. I grew up here. I went to school with Cuban guys, Jewish guys, displaced New Yorkers, and South Florida rednecks. And I fish and I dive. I'm part of the community here. For me, marrying this market was very easy. I couldn't do it in Birmingham, Alabama.
Q: What one thing would you do different/better if you could start it all over again?
A:
I'd have moved to Los Angeles and done my show in the entertainment capital of the world. I don't know how far I would have gone because I never took that step. Maybe there was some fear. There's a morning show in L.A. named "Kevin and Bean," and their sidekicks were Jimmy Kimmel and Adam Carolla. Ryan Seacrest was a pretty good deejay in Birmingham or Atlanta and he went to L.A. So it opens a lot of doors. Do I have that 'it' factor? I always thought I should have been in the movies. Not because I was good-looking or anything. Sometimes you have this stuff inside you. But at this point, I can't complain. I have it pretty good. I wonder whether I would have gone out there and become a big star. Or whether I'd have gone out there and imploded like so many others.
Q: What's your favorite South Florida charity?
A:
It's heartbreaking that you can't do them all, because you have to have a life. So we've tried to do some of the bigger ones so we can help raise lots of money. We're best-known, probably for feeding hungry people. We've done an annual food drive with over a million pounds of food every single year at Thanksgiving or Christmas. We partnered with
Feeding South Florida
, but it formerly was called the
Daily Bread Food Bank
. As parents, Ron and I can't imagine hungry kids. We've always thought that feeding hungry people has been a pretty good thing because lord knows we've eaten enough. With my wife being a cancer survivor, we've done many cancer charity events. I'm also on the board of directors of the Miami Dolphins Foundation. Recently, I was at an event for the
Voices For Children Foundation and Guardian Ad Litem
program. I want to help them. Seeing all these kids get abused in South Florida is heartbreaking.