South Florida's Best and Brightest
Originally published: Friday, April 1, 2011 (12:00:03 a.m. ET)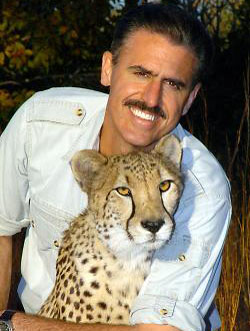 Zoo Miami Communications Director Ron Magill. (Photo courtesy of Zoo Miami).
Ron Magill
His work requires a unique dedication and vast knowledge, and he has enough of both to spare. On its official website, Zoo Miami calls him a "Goodwill Ambassador" as well as the facility's "Communications Director," but those labels hardly begin to fully describe the work he does. He is a spokesman, a producer, a photographer, a genuine savior, and a globetrotting champion of wildlife and conservation. Indeed, Ron Magill is internationally recognized for a lifetime of accomplishment, whether it be on the Dark Continent, to which he has traveled nearly three dozen times, or India, the Galapogos Islands, or South America. Magill has called South Florida home since his parents relocated the family from New York City when he was 12 years old, and he has promoted his life's mission on virtually every local and nationally syndicated television program in America, including "Late Night with David Letterman," "Dateline," "The NBC Nightly News," and "Live with Regis and Kelly."
Q: What advice would you give youngsters who want to embark on a career in your industry?
A:
The key thing really is experience, experience, experience. In my industry, I've had people who come to interview for a job with the degree, but they don't have any experience. The degree is important, but what I try to tell people is getting that experience will set you apart. Even if it means volunteering. Go to a place like Seaquarium or Monkey Jungle or an animal rehabilitation facility. I cannot overemphasize that importance, of working hands-on with animals, even if it's for no pay.
Q: Of what professional accomplishment are you most proud?
A:
Being able to establish the Harpy Eagle Conservation Program in Panama. This is a bird that is the most powerful bird of prey in the world. In Panama, it has one of its last strong populations in the rainforest. Before I started working with it [in 1998], nobody there knew what it was; by the time I finished, we had established a $1 million conservation center and I was part of a core team that convinced the Panama legislature to officially designate the Harpy Eagle as the country's national bird. Ever since I was a small boy, the Harpy Eagle was an animal I always found to be simply amazing, and I'd never seen a live one. I am fortunate to be married to a woman of Panamian descent. When I was in the local zoo in Panama, I had a very bittersweet experience of seeing my first two Harpy Eagles. At first, I saw these incredibly majestic, wonderful birds in real life, which totally awed me. But they were housed in this horrible little chain-link pen that was oppressive. It inspired me to make them a better place. So I asked who the boss was and it happened to be the Mayor of Panama City. I wrote her a letter and she designated me as her Harpy Eagle ambassador. With companies like Sony and American Airlines and Visa International, I raised close to a $1 million to build a center and to make it this huge national project.
Q: What's the most challenging part about your work?
A:
Trying to raise the funding to provide the type of facilities needed for the conservation efforts that are going to help protect wildlife. It surprises people sometimes when I say this, because as much as I've dedicated myself to wildlife and conservation, there is no single animal life that's more important than a human life. So it's very difficult to justifiably say that we need to save an animal when people in the village that shares the land with that animal are hungry or are suffering. We have to be able to get a balance there, and that's the big challenge. How to create the balance so both benefit.
Q: What did you envision doing for a living when you were growing up?
A:
Ever since I could remember, I've always dreamed of working with animals. I tell kids all the time when I speak in schools that they are so lucky today because they have this wonderful variety of wildlife programming. Whether it's
Animal Planet
,
Discovery Channel
, or
National Geographic Channel
. When I was a kid, there was one show. It was on at 7:30 on Sunday night, and it was called "Wild Kingdom." There was a guy on that show named Jim Fowler. Other than my dad, he was my hero. That was everything I wanted to be. I have a picture of me watching him on a little 12-inch black-and-white television set when I was six years old. Little did I know that 25 years later, not only would I meet him, but he's become a lifelong friend and a mentor of mine. We've done documentaries together for
Animal Planet
in the rainforests of South America. I'm basically living the dream I had as a little kid.
Q: In ten years' time, I will be _________________.
A:
Hopefully here at the Zoo, watching kids become more and more passionate about wildlife. It's one of the greatest rewards I've had, watching this new generation become so passionate about the environment and about wildlife. When I was their age, we never thought about things like recycling, smart cars, or hybrids. I envision that being even greater in ten years than it is today.
Q: Who are/were your professional role models and why?
A:
Jim Fowler was the Number One role model for me. He was the original crocodile hunter. He did it better than anyone, so he was my hero, in that sense. Right next to him was my dad. He was a guy who had such tremendous passion. I come from a Latin background, I'm a Hispanic, myself. The passion of the Hispanic culture is what helps drive me in communicating to people how important protecting wildlife is.
Q: If you could do anything else in the world for a living, what would it be?
A:
A documentary cinematographer for wildlife. I guess that's somewhat what I do now, but not to the same extent. Here, I'm an ambassador for the Zoo, but I would love to be able to just get a film camera and sit in a blind for months in the middle of an African waterhole and document the behaviors of those animals. That's something I've always dreamed of doing, those kinds of first-class documentaries.
Q: What's the best part about your job?
A:
Every day is different. You can't predict what is going to happen each day. It's great to know that it's not the same old, same old. I've been here for 31 years, and the excitement never wanes. One of the challenges is to always keep the media appearances new. I realize the importance of it. I can speak to a group of 500 students in a school and make a nice impact and affect kids. But I can make a five-minute appearance on "The Early Show" [on CBS] and reach millions. Once you understand the power of it, that creates incredible excitement in the sense you have a privilege reaching millions of people. The media is incredibly important and a lot of people miss out on that. We are a media-driven society.
Q: What's the worst part about your job?
A:
Dealing with the politics. Politics seem to infiltrate almost every aspect of life these days, and my job is certainly not immune to it. And dealing with meetings. I'm not a big meetings guy. I'm against that 'government mentality' where they have meetings to talk about meetings. Sometimes I leave these meetings and I think 'that was an hour of my life I'm never going to get back.' I always think that's time you can use to be more effective. I'm not that structured. The political structure we have to work under is very frustrating.
Q: What's the one most important thing that experience has taught you?
A:
No matter who I meet in this world, they will always know something that I don't know. And that when I meet anyone, I need to go in with that type of mindset. Because you never stop learning. I would go to a place like Africa, and I think I'm a person who might know a fair amount about animals, and I go out there with a tracker who never went to school a day in his life, and he starts telling and showing me things that make me feel so humble. There is so much more I don't know about animals than I do know. Experience has taught me to have that mindset. No matter how much I learn and see, I'll never know enough.
Q: What's the best career advice anyone has imparted on you?
A:
Don't take yourself too seriously, learn to laugh at yourself, and learn to have a sense of humor, no matter what you do. And understand that there are always going to be challenges. There are going to be many times when things don't work out. Early in my career, any time I hit one of those road-blocks, I would get so depressed and think I didn't want to continue with it. Then you realize there's a good reason for every bad thing that happens, and you just have to give it a chance.
Q: What one thing would you do different/better if you could start it all over again?
A:
I need to have a better filter. I sometimes have too much of a knee-jerk reaction when I respond to things. My reactions are sometimes done with too much emotion and not enough thought. Sometimes my emotions cloud my sense of decorum, shall we say.
Q: What's your favorite South Florida charity?
A:
The natural thing for me is to say that it's the
Zoological Society of Florida
. In my heart, it's the
Make-A-Wish Foundation of Southern Florida
. I've been so privileged to work with them and with the kids who've come here. In our society, there is nothing more important than the life of child. And when you have an opportunity to bring a smile to some of these kids' faces at a time when they are facing such incredible obstacles, it's such a magical thing. What that organization does is so magical.