South Florida's Best and Brightest
Originally published: Friday, July 1, 2011 (12:11:29 a.m. ET)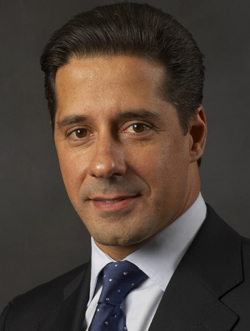 Miami-Dade County Schoool Superintendent Alberto Carvalho. (Photo courtesy of MDCPS).
Alberto Carvalho
To understand the nearly incomparable enormity of the responsibility with which he is charged, look no further than the numbers. His precinct is gargantuan. More than 350,000 students. An annual operating budget in excess of $4 billion. More than 53,000 employees and nearly 48 million square feet of facilities. As superintendent of the Miami-Dade County Public Schools, Alberto Carvalho presides over the nation's fourth-largest educational system, and it can be safely asserted there isn't another district that features more diversity anywhere in the United States. His leadership hasn't gone unrecognized. Under his guidance, MDCPS students recorded their highest-ever graduation rate in 2010 and classroom achievement in reading, math, and science exceeded national averages in 2009. Carvahlo's efforts have resulted in a Governor's Race to the Top (RTTT) award for Florida schools of $700 million, and he has been profiled by NBC News, CNN, and The New York Times.
Q: What advice would you give youngsters who want to embark on a career in your industry?
A:
America is at a crossroads, from an economic perspective and from a political perspective. And education is that one industry that has been a bedrock in America for the last 200 years and will continue to be. There are new opportunities, the likes of which never existed, in the field of education. Teachers in Miami-Dade, under a new contract negotiated just two weeks ago, can earn up to $100,000 in the classroom. Certainly, the opportunities are there for those who want to seek higher levels of opportunity as leaders. I believe in recruiting from within, capitalizing on Miami talent. And now, being able to broadcast that we are the highest-performing urban district in America, that serves as an example that young people seeking opportunities locally in government have a shot; they have a chance. We're living through tough times, but hopeful times. What's worked for America for the last 200 years is going to continue to work for America. Education is the foundation of democracy.
Q: Of what professional accomplishment are you most proud?
A:
The fact that over the last three years, we've been able to propel Miami, which was often seen as a dysfunctional school system, to a point nationally where it's the highest-performing urban district, according to the NAEP, which is the National Assessment of Educational Progress. We're also poised to win the Nobel Prize of education, called the BROAD Prize for urban education, and that's the highest level of recognition that an urban district can receive in America. It comes with a $1 million award, and the announcement is going to be made on September 20. So it's the recognition of how far Miami has come, not just economically and politically, but also educationally.
Q: What's the most challenging part about your work?
A:
The economy. It is a sluggish economy. We know that Miami and the entire state of Florida are driven by two factors. One is growth, the other is property values, both of which have suffered significantly over the last three or four years with this greatest recession of our time. So the economic impact on the viability of the school system has been a tough challenge. But we've leveraged the challenge to spur reform, efficiency, and innovation. As dramatic and tough as these challenges have been, they have given us opportunity to reinvent ourselves into a better, more effective school system. The bread and butter of the school system comes from local property taxes, which are significantly depressed, not only locally, but statewide.
Q: What did you envision doing for a living when you were growing up?
A:
I grew up in Lisbon, Portugal, in a very, very poor family. I was the first in my family out of six to graduate from high school and the only one to graduate college. I immigrated to this country when I was 17, right after high school, having done many, many different jobs in Portugal to come here. My first few jobs in the restaurant business as a busboy and a prep cook, and then as a construction worker, were not an indication of things to come. But early on, I had a devotion for medicine. My training was in a pre-med program, in which I did very well, and I was accepted to medical school. But at some point I decided that was not for me. Public service, communication, and dealing directly with people were exactly what I needed. So rather than pick education, I almost feel like education picked me. I think it was absolutely destined, that I'd be doing what I'm doing today. And I'm not just talking about education, but rather serving the greater public good.
Q: In ten years' time, I will be _________________.
A:
That's an interesting question, because where do you go from being superintendent of the fourth-largest school system in the United States? Maybe governor? I've been in political environments for a long time. I was a lobbyist in Washington, D.C., and in Tallahassee. But I never necessarily envisioned myself being a politician. On the other hand, I believe this country is starved for more honorable, respectful, civic-minded, ethical leadership. As more people tell me that it's something I should consider, the more I am considering it.
Q: Who are/were your professional role models and why?
A:
I always looked up with admiration to a guy like [former GE chairman] Jack Welch. He was somebody who absolutely impressed me, always. From his work ethic and his leadership style, and his innovative spirit. Lee Iacocca is also somebody who impressed me, and I'm going back to people who made names for themselves when I was growing up, who took companies that were not necessarily doing well, and leveraging the challenges into an era of opportunity and innovation. And I think GE, Chrysler, and Ford were clear examples. They took industries that, at some point, were not at their apex of production and through effective transformation, they leveraged the challenges and put them back on the map, through sheer leadership and innovative thinking. They stand out as two people in the late-1980s and early-1990s who I read about, researched, and felt were incredible examples of fantastic leadership. Those two were American; one who is foreign is Mr. Toyoda, who was the sort of catalyst to what we know today as Toyota. I'm a public schools superintendent with a very strong private sector mentality. Toyoda was somebody whose leadership, whose attention to detail, whose exactitude of his precision and client-centric mentality impressed me a great deal.
Q: If you could do anything else in the world for a living, what would it be?
A:
Being a volunteer for Habitat For Humanity would probably be the thing. Rebuilding houses in Haiti or Liberty City would be something with which I'd be very content. I have big aspirations and very solid goals. But I've always tried to ground those deeply in terms of what my soul calls for. Community service is always something that beckons me. I'm superintendent today, but I try to keep a more universal focus on the greater good.
Q: What's the best part about your job?
A:
The reinvention of hope every single day. Whether it's going into a school and meeting a young boy, a third-grader, who looks you in the eye and fully expects that something better will turn out for him. Or whether it's something like I'm doing this week with graduating seniors and proclaiming, "Mission Accomplished," when you see thousands of high school students come across the stage to shake your hand. That's the very best part, the human connection. Whether it's addressing the needs of a homeless kid in Overtown, or a migrant kid in Homestead, or that one kid out of Aventura who is going to go to Harvard University. You put it all together and it forces you to reinvent hope every single day through your interaction.
Q: What's the worst part about your job?
A:
Sometimes, the political nuance of institutionalized government. The impact that the lobby forces have, or attempt to have, on government, and an economy that is unforgiving.
Q: What's the one most important thing that experience has taught you?
A:
Determination. I grew up poor and had to face a lot of challenges. [That's] the immigrant experience in this country. My own personal history has taught me that if you are determined and you know exactly what your moral compass is, and if you are determined to achieve something, you are going to get there. And that's what I talk to kids about all the time. Set for yourself a journey, chart a course, and you'll be okay. Fierce determination is what life has taught me.
Q: What's the best career advice anyone has imparted on you?
A:
Don't sacrifice or compromise your ethics or morals as you pursue higher goals. Stand firm on who you are, stand firm on your values, stand firm on your guiding principles. And if people don't accept that, it's their loss. I've lived that. I have not ever sacrificed who I believe I am for the sake of a business opportunity or a political decision. I am somewhat chagrined these days as I see others unfortunately not necessarily living up to that higher ethical model that would be demanded of public entities or CEOs of companies. The Bernie Madoffs and the Enrons of the world have ruined it for a lot of people. The best advice has always been not to compromise on a personal ethic that is both honorable and transparent, and also recognizing whatever the greater good might be.
Q: What one thing would you do different/better if you could start it all over again?
A:
If I were to do it over again, I'd be a bit more forceful in launching some new school models when I was a school leader. I waited until I was superintendent, so I did the reverse. Things like capitalizing on technology, digital content, and abolishing school bells. If I had to start over again, I'd be a little more forceful in the experimentation of school models.
Q: What's your favorite South Florida charity?
A:
It's hard to give you just one. I think the United Way of Miami-Dade is a powerful force, because it is the umbrella for so many different organizations that serve the needy in Miami. Miami Bridge is a small organization that saves young men and women who often struggle through the foster care system. And last but not least, any organization, and I'm not going to single one out, that serves and protects students with disabilities. That touches my heart. There are quite a few of them so I won't single one. United Way has a county-wide impact. Miami Bridge is very specific in saving young men and women who are living through the foster care system. And last are the great organizations that cater to the special-needs population.