South Florida's Best and Brightest
Originally published: Sunday, May 1, 2011 (12:02:02 a.m. ET)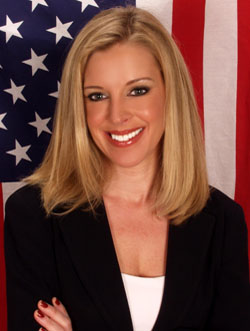 Eleventh Judicial Circuit Court Judge Bronwyn Miller. (Photo courtesy of Miami-Dade County).
Bronwyn Miller
She was just 32 years old when then-Governor Charlie Crist appointed her to a judgeship in the Miami-Dade County justice system. A mere five years later, Crist elevated her to the Eleventh Judicial Circuit of Florida, where she currently presides over criminal cases. Additionally, she has served as both an adjunct professor and guest lecturer at FIU. Bronwyn Miller has been an overachiever her entire life, dating to her undergrad years at Barnard College, which is part of Columbia University in New York. From there, she went on to complete law school with honors (cum laude) at the University of Miami in 1997. Miller is as devoted to her vocation as she is to public service, maintaining leadership positions for both Big Brothers Big Sisters of Greater Miami and The Board of Directors for Community Partnership for Homeless. She's a published author, AV-rated attorney by Martindale-Hubbell, and a "Celebration of Urban Professional Women" Shaker Award recipient.
Q: What advice would you give youngsters who want to embark on a career in your industry?
A:
I think the most important requirements for anyone who wants to embark on a legal career would be hard work, dedication, and a desire to help other people who do not have as many opportunities as you. Hard work can overcome pretty much any obstacle. So that's the key to success. It's also very important to make connections in the field, so I would say to socially network, to expand beyond the workplace. It's important to take part in volunteer activities, to join volunteer bar associations, and to really get to know the people who are the movers and shakers in the legal profession so you can seek out role models and mentors.
Q: Of what professional accomplishment are you most proud?
A:
I am most proud of the volunteer work that I've done outside of my professional capacity. The work that I've done with Big Brothers Big Sisters has been really important to me and has really provided me with a sense of accomplishment above and beyond everything I do in court. I think my work as a [BBBS] board member has really given a lot of children a lot of opportunity in the community.
Q: What's the most challenging part about your work?
A:
There's a lot of pain in court. I see a lot of families that are in distress. Families are being torn apart and certainly I see victims before me and I see defendants before me. And I see the families of those victims and the families of those defendants. Everybody is at their worst when they come into court. It's the worst day of their life and I'm trying to make a decision that is going to improve that situation for everyone. It's very, very difficult.
Q: What did you envision doing for a living when you were growing up?
A:
I wanted to be a veterinarian at one point and then I wanted to be a pediatrician. When I was in high school, I was very interested in becoming a member of the Foreign Service. But I was a pragmatist in college and that caused me to fill out my law school applications and move in a different direction. I worked as a substitute teacher in Vermont while I was on spring break and during summer vacations, and I did a lot of community service work in the New York public school system. I worked with a program called "Greeks in Service." It was during that time that I was inspired to work with the underprivileged. Eventually, when I went to law school, I interned at the Los Angeles Commission on the Status of Women and I started working with victims of domestic violence. That really moved me into the State Attorney's office for an internship in law school and I decided I wanted to spend my career in public service.
Q: In ten years' time, I will be _________________.
A:
I hope I'm still doing what I'm doing now. I love my job. Every day is a challenge. Every day is unique and it presents different people and different conflicts for resolution. I love getting up and going to work every day. I really hope I'm still a judge in 10 years.
Q: Who are/were your professional role models and why?
A:
My earliest role models were teachers. High school and grade school teachers. I sought to emulate them. They had a very important impact on my life. I started to look to political figures fairly early on. In high school, there was a symposium we were able to attend with the governor of Vermont who was one of the few female governors at that time, Madeleine Kunin. I certainly looked to her as a role model. I recall very vividly when Geraldine Ferraro was the first female vice presidential candidate on a major ticket, and I had the opportunity to meet her when I was living in New York during college. She was definitely a role model. I've looked to strong women and women who are accomplished and have had the ability to balance family with their professional demands.
Q: If you could do anything else in the world for a living, what would it be?
A:
If I didn't have to work, I would do philanthropic work full-time. There are so many charities in the community that need people to give their time and energy without being compensated. If I didn't need to work, that's what I would do.
Q: What's the best part about your job?
A:
That I'm able to bring resolution and closure to cases that have been pending for quite some time. People need closure, they need finality. They need somebody to come in and give them a ruling so they can go on with their lives. There is a certain amount of satisfaction in that. I see many people walk away, and for the first time, they are able to get on with their life because the case is over and the decision has been made.
Q: What's the worst part about your job?
A:
There are a couple of things that are negative. The worst part is that I have to run for office. I think that the politicization of the judiciary is a problem. Running for office is very difficult and very time-consuming. Judges are constrained from stating their positions on any political issues, so it creates a unique situation in which judges are required to run for office but they cannot speak substantively on any compelling political issues. The uncertainty of allocations relating to judicial budgets often keeps the courts in a state of flux and that's very difficult because the courts do not have a dedicated source of funding. The courts have a very limited budget and that can affect access to the courts that is sought by individual litigants. That impacts the speed of justice and the efficiency of justice. It's a systemic problem that we have in Florida.
Q: What's the one most important thing that experience has taught you?
A:
Never judge a book by the cover. It's very easy to look at a person and think you know everything there is to know about that person. Every person is unique and has a unique life-story. When that person comes before the court, they have a unique life experience that has shaped them into the person they are. One of the most important attributes of being a judge is being nonjudgmental at times, which is an irony because of the job-title. You need to abandon your judgment at times and simply look at people, accept who they are, and don't be quick to draw assumptions There's a reason as to why every person has arrived in court, and that reason is related to their life-story.
Q: What's the best career advice anyone has imparted on you?
A:
I did a legal internship for a professor at John Jay College of Criminal Justice as an undergraduate, and she told me to move to South Florida. She said that it's sunny and beautiful, and she couldn't think of a better place to go to law school than the University of Miami. I've never regretted moving here, and I've never looked back. Her name was Melinda Guttmann.
Q: What one thing would you do different/better if you could start it all over again?
A:
On a personal level, I wouldn't have waited so long to have children. I had been very concerned about my career and I put off having children until two years ago when my son was born. I frequently tell professional women not to feel they can't have it all, don't delay if you want to have children; I wish I had done it 10 years earlier. On a professional note, I think I would have been better off in college availing myself of more unpaid internships. I was working my way through college. I worked almost full-time as a bridal consultant, and I never did an unpaid internship during the school year. Those are extraordinarily important. For experience and they provide an opportunity to make connections that you will need later to successfully navigate the workplace.
Q: What's your favorite South Florida charity?
A:
I have more than one favorite. I've done a lot of work with Big Brothers Big Sisters, and just this year, I joined the Board of Directors for Community Partnership for Homeless. These are both amazing charities that have very different roles. BBBS prevents at-risk children from becoming involved in the cycle that we see in our community. BDCPH, of course, provides essential services for homeless individuals in our community, and I see many of those individuals in court, as you can imagine. About a year ago, BBBS launched a program with the 11th Judicial Circuit, and I worked with them to spearhead it, called "School to Work," and we had children assigned to a mentor who was a circuit or county court judge. The children were bussed to the courthouse and they'd spend the day with their mentor and get on-the-job training. They sat in court, observed the proceedings, and had interaction with their mentor so they could understand what was going on. I'm very proud of that program. In about a month, I'm going to co-chair the Women Aid event for BDCPH. These are two charities that are very close to my heart, the ones in which I've taken the most active roles.