South Florida's Best and Brightest
Originally published: Tuesday, March 1, 2011 (12:00:01 a.m. ET)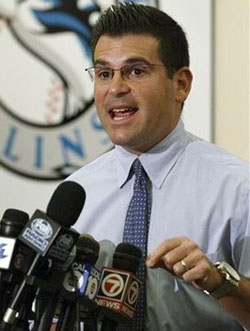 Florida Marlins President David P. Samson. (Photo courtesy of Getty Images).
David Samson
He put in years, which probably seemed to him like lifetimes, of extraordinary effort and tireless planning, to ensure a new ballpark for the Florida Marlins would be built. In the end, David Samson at long last, convinced Miami-Dade County and City of Miami officials to ante $361 million of the $515 million in taxpayer money that would be required in construction costs. Today, that stadium, which will feature 37,000 seats, a natural grass field, and, of greatest importance, a retractable roof, is quickly nearing completion on the site of the old Orange Bowl in downtown Miami. Samson, a University of Wisconsin and Cardozo (N.Y.) School of Law graduate, has been president of the team since 1999. A constant target, most notably, for his disinterest both in acquiring big-name free-agents, as well as in retaining high-priced All-Star players, Samson has never shied away from the criticism, welcoming and pointedly addressing all (reasonable) inquiries from fans and media members alike.
Q: What advice would you give youngsters who want to embark on a career in your industry?
A:
Don't mistake passion for sports for success in the industry. The most successful executives are those who realize this is a business. I personally get 30 to 40 résumés a day. And they all start the same, 'I love sports, I love sports.' We actually want people who understand that it's a business and who are not looking to watch batting practice and games. We will respond to some. If names are spelled wrong or there are typos, we'll throw them out. Some of them will get sent to Human Resources if I think they are worth a call. The others just get responded to that we have no openings.
Q: Of what professional accomplishment are you most proud?
A:
I would say securing the future of the Marlins franchise by completing the deal for a new retractable roof ballpark. Without that, there would be no baseball in South Florida.
Q: What's the most challenging part about your work?
A:
I think the most challenging part is that our company is a private company that undergoes significant public scrutiny. And having to manage the media. The equivalent that I tell people is to imagine a camera and members of the media sitting outside of your desk. I ask them if they'd be able to do everything [in those conditions]. That's the tough part.
Q: What did you envision doing for a living when you were growing up?
A:
I wanted to be the point guard for the New York Knicks. But I stopped growing.
Q: In ten years' time, I will be _________________.
A:
I'll be at my middle daughter's college graduation. Professionally, I would say I'll be the president of the Miami Marlins, a franchise which was reborn 10 years earlier, and is now one of the leading franchises in all of Baseball.
Q: Who are/were your professional role models and why?
A:
My first role model was my grandfather, Harry Samson, because he taught me how to be an entrepreneur. Second would be Jeffrey Loria, the team owner, because he taught me that 'no' is just an impediment to 'yes.'
Q: If you could do anything else in the world for a living, what would it be?
A:
I would like to run the Bill & Melinda Gates Foundation because the power of giving equals the power to make a permanent difference.
Q: What's the best part about your job?
A:
7:10 p.m., 162 days of year. Because there's no gray area. You either win or you lose.
Q: What's the worst part about your job?
A:
I think the worst part is the misunderstanding that takes place with certain members of the media. Trying to explain to the general public why certain things are done and not being able to have certain members of the media, and therefore the public, understand the reason. It's not that we need everyone to agree with us in what we do, we just want people to understand the decision-process that we went through.
Q: What's the one most important thing that experience has taught you?
A:
It is okay to not know. The very best thing you could do is [find out] what you don't know.
Q: What's the best career advice anyone has imparted on you?
A:
My first day at Morgan Stanley, one of the managing directors said to me that there is a higher likelihood of failure than success in your position, which is the very thing that makes success so sweet.
Q: What one thing would you do different/better if you could start it all over again?
A:
I ran a business called "News Travels Fast" after law school. It was a business delivering newspapers to Europe on a same-day basis. Then the Internet was invented and I said to myself that no one would ever read a newspaper on the computer. And a year later, I was at Morgan Stanley. I would take the invention of the Internet more seriously.
Q: What's your favorite South Florida charity?
A:
The Marlins Community Foundation. I'm the president. So I have seen first-hand the things we do for the youth of our community. I've seen the kids smile when they meet players, or when we give kids dinner who can't afford it, or when we give kids Christmas gifts that they wouldn't otherwise get. It's just a pleasure watching people react to our work.