Cover Story: 20 Good Questions
ORIGINALLY PUBLISHED: WEDNESDAY, JUNE 1, 2011 (12:02:18 A.M. ET)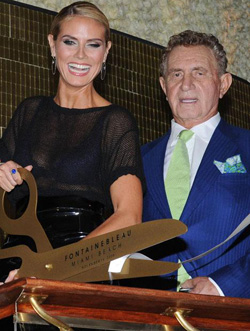 Donny Soffer and model Heidi Klum perform a ribbon-cutting ceremony at the Fontainebleau grand re-opening party in November, 2008. (Photo courtesy of Wire Image).
Donny Soffer
(PAGE ONE)
Without mincing words, there would be no Aventura if not for him. It was 1967 when he purchased a neglected and submerged chunk of land in northeast Dade County and quickly went to work developing it. Fast-forward to the present day, and that parcel is home to some of the world's choicest properties, including: a premier shopping destination that attracts more than 24 million annual visitors (The Aventura Mall); a world-class resort that serves as a getaway for scads of professional athletes, Oscar Award-winning actors, and business tycoons (The Fairmont Turnberry); and numerous luxurious high-rise condominiums (Porto Vita, to name just one, where penthouses currently start in the eight-figure price range). Donny Soffer is the visionary who first conceived Aventura, but it was hardly his first real estate venture. Soffer erected his first shopping center, South Hills Village, in a suburb just outside of Pittsburgh in the mid-1950s and hasn't stopped building since. To date, his company, Turnberry Associates, has amassed a jaw-dropping portfolio worth more than $7 billion, the crown jewel of which could well be the famed, historic Fontainebleau Hotel on Miami Beach, which he purchased, massively renovated, and reopened two-and-a-half years ago.
Q1: Exactly how much did that parcel of 785 submerged acres of land set you back four-plus decades ago?
It was $6 million, payable with $50,000 every three months. I was building these shopping malls in Pittsburgh at the time, so we had some cash from those. I'd say we had about $500 million or $600 million worth of real estate in Pittsburgh.
Q2: Did you always envision Aventura would become so affluent so quickly?
The people we built this place for had boats and played golf, so you're not dealing with poverty-stricken people. And the golf course and country club became the social focal point of the whole project. Of course, many factors have affected South Florida real estate over the years. The value of the dollar, interest rates, incidents like the riots, hurricanes. In the 1980s, the dollar went crazy, and interest rates went to 21.5 percent.
Q3: What was most important to you as you started out?
Well, my dad found this land, these 800 acres that were all under water. Naturally, I got the job of developing it. One thing I know is that you always go with class names. I had
Robert Trent Jones
do the golf course. I had
Hall and Goodhue
, a very famous land planner do the whole planning. Then I did the high-rise thing. Because it was all zoned single-family, I had to convince the county that there'd be more of a visual with high-rises because it's a smaller footprint. With single-family homes, you see nothing. Then we had the shopping center site out there, and I donated the land for them to build the [William Lehman] Causeway. When the Causeway came in, you had a pretty good commercial site. I hired
Julius Boros
as my golf pro; he won the U.S. Open twice. We had
Fred Stolle
as my tennis pro. It was a happening place. People would come and see all of these celebrities like
James Caan
. I sold an apartment to
Princess Caroline
of Monaco. It became a nice neighborhood.
Q4: The party to fête the re-opening of the Fontainebleau had to be one of the best events I've been to in recent memory. What did you think?
Every party I have is like that. Every property I've opened has had a great party. I'm great with parties. You never heard of Turnberry back in the old days? It was the hottest place in the world. Everyone would fly in on Thursday night for the weekend. I had Arab sheiks and princes fly in from San Diego for the weekend on their 737s. Every major player in Europe and America came.
Elizabeth Taylor
,
Dustin Hoffman
,
Bill Cosby
,
Elton John
. They were all there. All the tennis players.
[Björn] Borg
would be playing with
Vitas [Gerulaitis]
. The amount of people doesn't make the difference; it's the quality of people. Of course, they had the Victoria's Secret girls at the Fontainebleau, but very few of them could speak English.
Q5: Strictly from a business perspective, how is the Fontainebleau doing?
It's an icon. It's the kind of project that really stands out. Basically, it's doing very well. Everyone in Florida wants to go there. It's not like any other hotel. It's a whole lifestyle. You go there and you have the nightclub, the restaurants, the pool. The money is paying off; it's generating plenty of income. You don't like to have the [cost overruns] but what you had at the time was a building frenzy. All of the materials went sky-high. If you go back five or six years ago, they were building all of these condos, and you couldn't see the sky because of all the cranes. Cement got very expensive, steel got very expensive. It became very costly and that wasn't fun. Obviously, the end-product came out pretty good. It's a trophy property.
Q6: Will we ever see the day when there's Las Vegas-styling gaming at the Fontainebleau?
I think eventually Florida will have gaming. We have it now, but I'm talking about major, big-league gaming. The gaming they have now only takes money from local people, who are not the affluent ones. The only way gaming can work is if you build a fantastic facility, like Bellagio and MGM in Las Vegas, and you attract people from out of state and out of the country who come for the shows and entertainment, as well as the gaming. When those people lose money, it doesn't negatively affect the local economy. It's just a matter of time. Even the most puritan state, Massachusetts, has gaming. The Indians have it here, so what the hell is the difference? If you have it here, it should benefit the people. Right now it only benefits the Indians. And I know we treated them badly, but now they're having a ball. Enough is enough already. They'll still have their casinos.
Q7: On that topic, what's your assessment of the Seminole Hard Rock?
Nobody is flying in from New York or Chicago to stay at the Hard Rock Casino. To make it work, you have to bring people in to the state of Florida, so [the players] aren't the ones who use their Social Security check to buy a couple of chips or to get into a poker game. It's a political thing, of course, and it will come from the constituents. They'll eventually want gaming when their real estate taxes have to go up and the fares on the buses go up. Gaming will create employment in all these industries, construction, waiters, chefs. It just makes sense to have it. Gambling used to be a vice back in the 1950s in the
[Estes] Kefauver
days and the Mafia days. Now, people play blackjack as a hobby. They know they're going to lose $50 or $100, but it's fun for them. It's the ones who need the money for rent or a car payment who end up doing something bad. The economy in South Florida needs that stimulation. People will come to a place to gamble if it's in a first-class hotel. I'm not saying that because we own the Fontainebleau. It's common sense. Look at Atlantic City. It didn't work out because Atlantic City is not a tourist destination. Try going there in November, December, January, or February. It's not a walk in the park. It's not the greatest area. You go one block off the Boardwalk and it's a disaster.
Q8: Can you tell me about your relationship with your son, Jeff?
We're very close. I gave him the business. I gave him most of the interest and I get an allowance. But I'm still the managing partner, and I go in and I yell and scream just like my dad did with me. I didn't talk to my father one time for six weeks. I was in Pittsburgh, building this mall up there in the mud and the ice and the snow, and he came up and started yelling about a doctor's sign on a medical building that we had. I got pissed and said, 'You're down there in Florida playing gin every day, and you come here yelling about a sign?' I have blowups like that with Jeff but they don't last six weeks. Just a day or two, because he's pretty good with that stuff.
Q9: Was it always a foregone conclusion that he would get into the family business?
He came into the business and I guided him along for a while. Then he kind of went on his own. I gave him the condo business and he took it to another level. He went to Las Vegas and did a lot of things there. He was doing the casino, which he lost because of the financial disaster, which wasn't his fault.
Q10: What's the status of the Las Vegas hotel/casino on which you began construction a few years back?
Well, we built quite a bit there. Condominiums, that is. As for the casino, there is a big lawsuit. There was a $900 million commitment that didn't get funded.
Lehman Brothers
went bankrupt and they had made a $400 million commitment. We paid them a $50 million commitment fee. Lehman Brothers was our main bank and they went bankrupt, so they couldn't fund. The legal process takes a while. We had one hearing two weeks ago at which the banks tried to get summary judgment and they didn't. So we have a right to discovery now which they didn't want. So we're in a pretty good position.