South Florida's Best and Brightest
Originally published: Wednesday, June 1, 2011 (12:02:17 a.m. ET)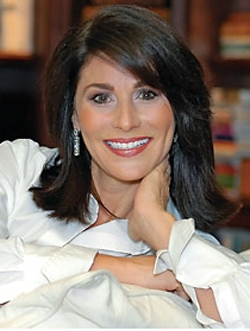 Women of Tomorrow founder Jennifer Valoppi. (Photo courtesy of Women of Tomorrow).
Jennifer Valoppi
The full measure of her contribution to South Florida is one that will never be fully gauged. It was in 1997, at the height of her popularity as a weeknight news anchor at WTVJ (NBC6) when she created the Women of Tomorrow Mentor & Scholarship Program, an organization dedicated to enriching the lives of at-risk girls in Miami-Dade County. Over the next decade-and-a-half, Jennifer Valoppi's work has inspired hundreds of the area's top businesswomen to donate their time and knowledge for the betterment of thousands upon thousands of local girls. She is a two-time Emmy Award winner, author of "A Certain Cure," which hit bookshelves nationwide in 2008, and was recognized by then-Governor Jeb Bush as a Point of Light recipient, the state's highest honor, in 2008. Valoppi received her undergraduate degree in psychology from Oakland University in Michigan. She subsequently passed on law school at Wayne State University to pursue a career in TV journalism.
Q: What advice would you give youngsters who want to embark on a career in your industry?
A:
I think the main thing, whether it's for a career on television or a career in philanthropy, or pretty much anything else you want to do in life, is that you have to find something you love. I'm a big believer in [the notion] that if you find something you love to do, you'll never work a day in your life because it will always be fun. That's really my advice. Do something you love. Do something smart, that you have a good opportunity to make a living at. But do something you love and follow your passion. We spend so much of our life working, that if you don't have a passion for what you do, you're going to have a miserable life. You have to do something from which you derive joy. Most of the jobs people think of as great jobs are the ones everybody wants, so don't ever think it's not going to require a lot of work. The things that usually look the easiest are the ones take the most effort. So be prepared to work hard.
Q: Of what professional accomplishment are you most proud?
A:
I can think of three things. One was many years ago when I was an investigative reporter. There was a man accused of killing a SWAT team member and he was facing the electric chair. My investigative work ended up getting him released from jail on bond and eventually acquitted. The second thing is when I got an honorary PhD. I was going to law school when I was getting into TV and I had also studied some in a doctoral program at NYU at one point in my life, but I never got the advanced degree. So when I got an honorary doctorate from St. Thomas, I was very proud of that. I've got a couple of Emmys and that's great, and I love them, and I've got more awards than I can count, but the thing I'm most proud of is creating and designing Women of Tomorrow. Nothing I've ever done could have a bigger an impact than that organization.
Q: What's the most challenging part about your work?
A:
In philanthropy, there's a lot that goes into running an organization that has nothing to do with the program itself. I designed this really cool, unique program for at-risk young girls, putting them together with highly accomplished professional women in groups, which has proven to be very effective. But you don't realize while you're doing it that at some point you have to fund raise and that's not something I'm particularly good at or comfortable with, asking friends for money. We're in the process of a national expansion right now, thanks to the John S. and James L. Knight Foundation, which gave us a $3 million grant to launch a national expansion, so that requires an enormous amount of work to get something like that up and running in a new city. Understanding your limitations and what you can do with the available funding is a really huge challenge. There are so many things you want to do, and when you see that the program is working effectively, you want to be able to reach out to young people everywhere.
Q: What did you envision doing for a living when you were growing up?
A:
I wanted to be an artist. I loved to paint and draw. I actually loved to write ever since I was a little kid. I especially loved to read Alfred Hitchcock. I used to sneak into the adult section of the library to get out the Hitchcock books when I was 10 or 11 years old. They were the scariest of the scary. I loved to read and write those kinds of things.
Q: In ten years' time, I will be _________________.
A:
Hopefully, doing exactly what I'm doing now. I hope to be having fun, enjoying life, and working hard. I'm a big believer in spending an equal amount of time working hard and having fun.
Q: Who are/were your professional role models and why?
A:
I never really had a lot of professional role models. My grandmother was a personal role model because she was an extraordinarily kind and forgiving woman who had gone through many obstacles in her life, including fleeing Armenia when the Turks were massacring Armenians in the early 1900s. She had faced an enormous amount of challenges and emerged a better person because of it. Professionally, I'd say most of the people I thought of as role models when I was a teenager were lawyers, and I came to understand their business and admire their work ethic. I can't think of anyone who was ever really a role model or mentor to me in television. I wish I had one. There were a lot of people I liked.
Q: If you could do anything else in the world for a living, what would it be?
A:
I'm working on a sequel now to my first novel, and the only other thing I can think of that I'd like to do is to see my first novel, which was called "A Certain Cure," made into a film. There has been a lot of talk about it, but nothing has come of it at this point.
Q: What's the best part about your job?
A:
Without a doubt, it's getting to see the results, the lives we're changing. When kids come up to me and say, 'This program saved my life,' I used to think that was silly. Until I started hearing the stories and started hearing that phrase over and over again. Now, I realize that we have such fabulous mentors and such incredible young women in this community who just need a little extra guidance in many ways, and need a little extra support because maybe they're not getting it at home. Maybe they're not getting it through their friends. They need to have a dream and then they need the resources to get to that dream That's what Women of Tomorrow focuses on. When I go to the graduation luncheon every year, and we give away the scholarships, I walk away thinking how grateful I am to have the opportunity to do this.
Q: What's the worst part about your job?
A:
The worst part of any job is when you feel limited. When you reach the point where you want to do more, whether it's in TV or philanthropy or in writing a book. When you hit a wall, when you want to do more, you want to do bigger, you want to do better, and for some reason, some challenge is facing you. I used to have a show many years ago in New York called "Money, Power, and Influence," and one of the guys I interviewed, Mark Goodson, the legendary game show producer, said the real key to any successful person is the ability to turn obstacles into opportunities.
Q: What's the one most important thing that experience has taught you?
A:
That's probably it, that the key to being successful in life is to have big dreams, because it takes just as much work to accomplish a little dream as it does to accomplish a big one. And the second thing is that the key to success is the way you overcome the obstacles that you're presented with in life. It's all about persistence and overcoming your own limitations.
Q: What's the best career advice anyone has imparted on you?
A:
Always be nice to everyone on your way up because you never know who you're going to run into on your way down. That was told to me by an art director who was working on a set when I was doing a little bit of modeling during college. He was a guy I don't think I ever saw again, but I always remembered that. Also, I had a news director at my first job in television, his name was Jerry Jensen, when I was doing weather in Flint, Michigan. The first thing he said to me was that people don't want to hear that it's "precipitating," they want to hear that it's "raining." He told me to talk to [viewers] as if you were speaking in your living room.
Q: What one thing would you do different/better if you could start it all over again?
A:
I would take more of the help that was offered to me. I was always of the opinion that I had to do everything myself. When people would offer to help, I always said that I had to figure everything out on my own, that I don't take shortcuts. When someone offers their help, take it. The other thing is that you really have to have confidence. You really have to believe in yourself. There's a big difference between being confident and being cocky. And that confidence has to be genuine. You can't act like you have confidence. You really have to believe in yourself and your ability to do what you want.
Q: What's your favorite South Florida charity?
A:
Women of Tomorrow. My inspiration for the foundation came from my college years when I was studying the psychology of women. A professor pointed out that the real problem with the inequality between men and women wasn't so much that men felt women were inferior, but that women felt women were inferior. What was even worse was that women who made it to the top liked being the only ones there and didn't do anything to help other young women along. That stuck in the back of my head throughout my career. The idea -- to get very accomplished professional women to reach out to support other women -- really was inspired by the research I learned about in college.