South Florida's Best and Brightest
Originally published: Monday, August 1, 2011 (12:03:32 a.m. ET)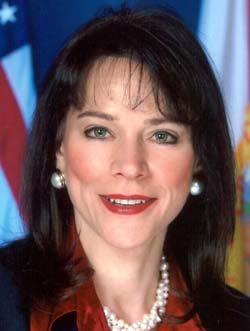 State Attorney Katherine Fernandez Rundle. (Photo courtesy of Miami-Dade County).
Katherine Fernandez Rundle
It could fairly be asserted that she had been preparing throughout her entire life for the job of State Attorney. From her formative years watching her father serve as the first-ever judge of Cuban-American descent in Miami-Dade County, on through a decade-and-a-half-long role as Assistant SA. Katherine Fernandez Rundle has served five consecutive terms in her current position and has left a mark on the community that time will surely prove to be indelible. She's been a strong and tireless advocate for kids, presiding in her jurisdiction over the state's only Child Support Enforcement Office, which makes it more difficult for parents to skirt their financial responsibilities to their children. And she took a lead role in the passage of the Florida Punishment Code, which eliminated previous sentencing guidelines, clearing the way for judges to issue even stronger punishment when need be. Since she assumed office in 1993, murders in MDC have decreased by 43 percent and robberies have dropped by 53 percent.
Q: What advice would you give youngsters who want to embark on a career in your industry?
A:
The law can represent many of the best aspects of our society, so if you are choosing a career in law, do so because you believe in the beauty of the law and you wish to seek the truth. Be passionate about your career choice, because as a lawyer, you must always believe in what you are doing, no matter what type of law you choose to practice.
Q: Of what professional accomplishment are you most proud?
A:
I am most proud of the positive changes I have been able to bring about that have helped the people of Miami-Dade County, such as the creation of the first Domestic Violence prosecution unit in the State of Florida and later the creation of Domestic Violence Court as a means of focusing in on the violence of these types of crimes. I'm also very proud of the role I played in creating America's first Drug Court as a means of rehabilitating needy drug users and restoring them as contributing members of our community. I'm also proud of the work I've done fighting juvenile crime by attacking one of its basic causes, school truancy. While I'm particularly proud of leading the state in the incarceration of career criminals, the worst of the worst, for the past 17 years, I'm equally proud of our Sealing & Expungement program which brings together a variety of agencies to help individuals get a "second chance" at a positive future. I guess you can say that I'm most proud of having the chance to really make a difference.
Q: What's the most challenging part about your work?
A:
It is a consistent challenge trying to do much more to keep this community safe with much fewer resources every year. With many of the largest private law firms having 75 or less attorneys, each year we have to hire and train far more than that if we hope to remove dangerous criminals from our streets. Low starting salaries make our job even tougher. I thank God every day for the motivated and deeply committed people who come to work at the State Attorney's Office and make our courts work.
Q: What did you envision doing for a living when you were growing up?
A:
I always envisioned being a lawyer. My father was a lawyer and the first Cuban-American judge in Miami-Dade County. I not only inherited his love for the law, but his commitment and passion for seeking the truth.
Q: In ten years' time, I will be _________________.
A:
Still fighting the good fight, wherever it may lead me.
Q: Who are/were your professional role models and why?
A:
My father first and foremost, and Janet Reno, a friend, a mentor and a woman who understood that the law can and should protect the people of this community.
Q: If you could do anything else in the world for a living, what would it be?
A:
I cannot imagine doing anything else that is as creative and challenging as being the State Attorney for Miami-Dade County.
Q: What's the best part about your job?
A:
Being able to do something that leaves a positive mark on the community.
Q: What's the worst part about your job?
A:
Knowing that whatever good you may do in court, it can never relieve all of the suffering of a crime victim. It is a heavy burden for any prosecutor to bear.
Q: What's the one most important thing that experience has taught you?
A:
Taking to heart the knowledge that you can never know enough. The best prosecutors know that there is a lesson to be learned every single day in everything you do.
Q: What's the best career advice anyone has imparted on you?
A:
My father always taught me that I can do anything I want to do if I set my mind to it. It is a lesson that has served me well, particularly when things get tough.
Q: What's your favorite South Florida charity?
A:
Wow. This is a tough one. There are many charities that are extremely important and do great work. But I have to say that charities that help to guide and motivate our children and adolescents are way up there. Women of Tomorrow is the first one that comes to mind. City Year Miami is another fine charity effort.