South Florida's Best and Brightest
Originally published: Friday, July 1, 2011 (12:11:29 a.m. ET)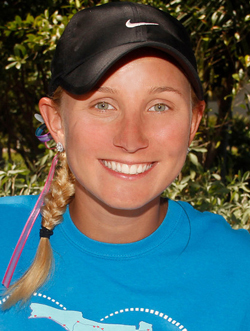 Lauren's Kids Founder Lauren Book. (Photo courtesy of laurenskids.org).
Lauren Book
Six grueling years of sexual abuse inflicted upon her by a family nanny finally and mercifully came to an end when she disclosed to her parents details of the continuous torture. Lauren Book's teenage years were irrevocably and irreparably damaged. Her life's mission now, at age 26, through her work at Aventura-based Lauren's Kids Foundation, and with the promulgation of education and awareness, is to prevent other children from encountering the same humiliation. For her efforts, which have included drawing attention to sexual abuse via annual 1,000-mile walks through the Sunshine State, distributing millions of pages of literature, and lobbying for legislation to protect the safety of minors, Book has been cited by national media outlets like ABC News and "People Magazine." She also has penned a memoir, "It's OK to Tell," which describes her heart-wrenching experience and emphasizes the importance of other youngsters speaking up if they are subjected to similar violence.
Q: What advice would you give youngsters who want to embark on a career in your industry?
A:
It's really important to do your research and look at all of the organizations out there that already exist. Everybody has unique interests, talents, and desires. Lauren's Kids exists because there was no other foundation like us. There was nobody doing the things we do, in the ways we do them, with advocacy. A lot of people start foundations that maybe could be part of another wonderful foundation, and, as such, we could all work together to create a common good. So I would say the first thing is research; once you do that, and the due diligence, surround yourself with mentors. People who can guide you and help you throughout the process, because it can be a long difficult one that can be very trying at times.
Q: Of what professional accomplishment are you most proud?
A:
The e-mails and the calls that I get from survivors who tell me they've gotten counseling or they've left their abusers. We get a lot of attention and awards that we're so honored to be bestowed with. But the greatest reward is a call from one of my survivors or a survivor's parent who says that, by leaps and bounds, she or he is doing great, and this is where we are because of the advocacy you've been able to provide for us, and the empowerment you've given us. For me, those are the most rewarding things that really remind me why we're doing the things we're doing.
Q: What's the most challenging part about your work?
A:
Trying to get people to pay attention to an issue like sexual violence. It's a scary topic that a lot of people don't want to talk about and don't want to address and don't want to look at. But it's something we need to pay attention to because we know that 95 percent of sexual abuse is preventable with education and awareness. So it's definitely getting people to pay attention to something that is scary and ugly. It's one of those things we're constantly fighting, how we can bring about this awareness and change when people are afraid to look at it. Everybody wants to believe it won't happen to them or their child or their grandchild. And the reality is that it's happening to their children, their grandchildren, people in their schools, people in their synagogues, their mosques. Sexual assault cuts across all socioeconomic backgrounds, cultures, religions, and genders. People think there's one type of pedophile, the scary old man behind the bush. The reality is that it's your rabbi, your cantor, your priest, your dentist, the pediatrician, the coach. Nobody wants to look at that because 90 percent of the time children are assaulted, it's by someone they know, love, and trust. That's scary.
Q: What did you envision doing for a living when you were growing up?
A:
I always wanted to be a teacher and I always wanted to be a mom. I wanted to be able to give my kids some of the things I didn't have growing up. I have two siblings I love and adore very much. But I had a mom who wasn't able to be there for me and a dad who was busy. And so I always wanted to be a mom and give [my children] the things I never got. I have a degree in elementary education; I taught for a while and I loved it. But being assaulted at such a young age, this is the path I've been given, and one that I've embraced and am proud to be on.
Q: In ten years' time, I will be _________________.
A:
The national face of an organization that works to eliminate the exploitation of children throughout the world.
Q: Who are/were your professional role models and why?
A:
First and foremost, Tracy Wilson Mourning. She's my spiritual mother; she's somebody I've looked up to for a very long time, a wonderful woman. And my father. Also, as I've been in the business now a long time, [hedge fund manager] Charlie Fernandez. People throughout our community who've given me the opportunities to learn and grow. Tracy is someone I admire and have felt so connected with. I sat down with her in her home office when I was preparing for my first walk. We were honoring her at the Reid & Fiorentino Celebrity Golf Classic and I wanted to get to know her and talk to her. We totally connected and hit it off, and now we work closely together. She came on the walk this year and was one of our featured survivors, coming out as a survivor of sexual assault as a child. I admire everything she does in the community to give back. I hope to be as much of an advocate as she is.
Q: If you could do anything else in the world for a living, what would it be?
A:
I would love to travel around the world and work to end human trafficking. I'd love to go to Haiti and pick up some of those kids who are in peril, and go to Africa and different parts of the world and protect children. That would be one of the things that would be an end-all-be-all for me. Or a dolphin trainer. I think it's amazing that the Seaquarium people can blow a whistle or do something with their hands and make dolphins do things. I think that's pretty cool. The things dolphins can do to help people, like provide therapy for autistic kids, is so cool.
Q: What's the best part about your job?
A:
Knowing that I get to make a difference in the lives of children throughout the state and the country.
Q: What's the worst part about your job?
A:
Budgets. Budgeting and money, and always trying to scrimp so we can do the things we need to do.
Q: What's the one most important thing that experience has taught you?
A:
That you cannot be a strong tree unless you build roots. And that it's important to build your roots deep and strong before you can create and be a strong tree. I'm the type of person who wants to do 25 things and I want to be 10 years down the road right now. I've had to learn through trial and error, and falling down a lot, that you sometimes just need to grow your roots, be steady, and be on your course, and that things will come. Finally, I'm starting to see that those things are actually very true.
Q: What's the best career advice anyone has imparted on you?
A:
Be patient and be smart. And be careful, but not so careful that you don't do the things that need to get done. My dad told me that. He's always told me that 'you know you need to get to X, but you have to careful and be calculated, but not so calculated that you never get there.'
Q: What one thing would you do different/better if you could start it all over again?
A:
I would have had a more diverse board of directors and would have worked toward their strengths. That would have made my life a lot easier. So if anyone is starting a nonprofit or a business, have that base and be sure that base is a really strong one so you can pull from those resources and continue to grow them. Because you can't keep going to the well and expect there to be water. You have to continue to grow and find new sources of revenue. You can't always pull from the same well and think there is going to be something there.
Q: What's your favorite South Florida charity?
A:
I do love Lauren's Kids. We provide advocacy to survivors, children, and families throughout the state and country. We do a 1,000-mile walk across the state, and we change laws, and we have a curriculum that spans from kindergarten through fifth grade to prevent sexual abuse and heal survivors. Because I do like to always talk about more than just myself, it's important to spread the word about other charities. I love the Make-A-Wish Foundation. To be able to give a wish to children facing life-threatening illnesses is incredible. And it's important to speak about Honey Shine, Alonzo Mourning Charities, and the Overtown Youth Center. I didn't get to where I am by myself. I got there with other people sharing my message. So I think it's important to share the message of other nonprofits. Those are three others on top of Lauren's Kids that I think are so important for our community.