South Florida's Best and Brightest
Originally published: Friday, July 1, 2011 (12:11:29 a.m. ET)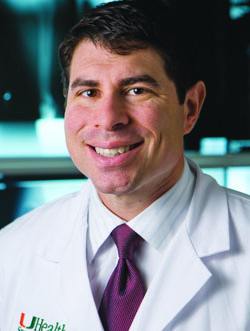 Physician Lee Kaplan. (Photo courtesy of Miller School of Medicine).
Dr. Lee Kaplan
His name is now undeniably synonymous with sports medicine in South Florida. He's the chief of the UHealth Sports Medicine Division and an associate professor of orthopaedic surgery at UM's Miller School of Medicine. As such, he's charged with the care of every Hurricanes student-athlete, spanning 15 teams between the men's and women's programs. Dr. Lee Kaplan is also the Medical Director for the Florida Marlins and is certified by the American Board of Orthopaedic Surgeons. He did his undergrad work at prestigious Johns Hopkins, attended medical school at George Washington University, and completed his residency at UM/Jackson Memorial. Kaplan, who concurrently did a sports medicine/shoulder fellowship and clinical instructor sports medicine and research fellowship at the University of Pittsburgh, is a member of the American Orthopaedic Society for Sports Medicine, the American College of Sports Medicine, and the American Academy of Orthopaedic Surgeons.
Q: What advice would you give youngsters who want to embark on a career in your industry?
A:
I would tell them that if they are interested in medicine for the science of it, and taking care of people, that you probably couldn't find a career more challenging. You probably could find careers that are equally challenging, but nothing more challenging. There's always something changing; there's always some science that's translational to patient care and really keeps you on your toes and there's great satisfaction with getting people healthy and back doing what they want to do in life.
Q: Of what professional accomplishment are you most proud?
A:
I really enjoy seeing the players get back on the field. So my proudest moment was when I was at the University of Wisconsin and we won the national championship in hockey, it was 2006, and as soon as the game was over, several of the players who had injuries, both within that game and during that season, came over and shared some private words with me. To me, that was my greatest professional satisfaction. That's been replicated, but that one moment sticks out in my mind.
Q: What's the most challenging part about your work?
A:
I am always on call. My phone is always available. I speak to people seven days a week. Between other colleagues, patients, teams, agents, and parents, I want to make sure that I always have the ability to give those people the attention they deserve. Sometimes that's challenging. The challenging part is making sure that each of those people, whether they are professional athletes or college athletes, or high school athletes who I love taking care of, gets better. Medicine is not always an exact science. So making sure they have every opportunity to get better, and that we're doing everything we can for them, is the most challenging. But it's also the most rewarding part.
Q: What did you envision doing for a living when you were growing up?
A:
I always thought I would either be Joe Namath or the team doctor for the New York Giants. Those were my dreams since I was about six, seven, eight, nine years old. I was a third-generation Giants fan who converted to being a Dolphins fan when we moved down here when I was about eight. The one caveat to that, which I feel super-fortunate about now, is that when I was about 10 years old, we started following the Hurricanes, who weren't very good at the time; this was right when Jim Kelly was playing and right before Jim Kelly, and I grew up a Hurricanes fan. So the opportunity to be their team doctor is really kind of a kick.
Q: In ten years' time, I will be _________________.
A:
Doing an expansion of my current role. We'll have expanded our research capacity. We'll have even newer cutting-edge technologies to offer to patients. Perhaps we'll have newer surgical techniques. But I hope to be doing what I'm doing, maybe with a little bit of a larger administrative role.
Q: Who are/were your professional role models and why?
A:
I've always been interested in what keeps people hungry, professionally. Whether it's someone who works at a hedge fund or if they have a small business, or a fireman or a police officer. What keeps them hungry and interested in their jobs. So my professional role models have been several. First and definitively, my parents. They are both extremely hard-working people. My mom worked two jobs to put us through school. Professionally, I've been very fortunate because I've come into contact with a lot of very high-level people who do what I do. The first person whose name I knew was
Dr. Russell Warren
, who is the team doctor for the New York Giants. Now that I've gotten to know him, it's been quite interesting. And also
Jim Bradley
, who takes care of the Pittsburgh Steelers; he's gone from being a teacher to being a mentor to being a friend.
Freddy Fu
, also, who is at the University of Pittsburgh. Besides getting the players on the field, the most rewarding part about what I do is the camaraderie, picking up the phone and being able to call some great people around the country.
Q: If you could do anything else in the world for a living, what would it be?
A:
I think I would do something else within medicine. I think I would become more involved in the translational research end of it, where you're developing new research studies to test what we can do to push medicine forward. I think that would be the arena I would go into. If I had the skill set, I would be a professional athlete.
Q: What's the best part about your job?
A:
Without a doubt, having somebody say 'Thank you' and feel like they're able to get back to their lifestyle. Whether it's someone working on Brickell or a high school athlete. I take a lot of pride in taking care of the high school athletes to give them the opportunity to go to college, maybe because of athletics. And hearing from those parents who may be sending their kid off to be the first-generation in a family to go to college. That's especially the case in Miami where you have a lot of those situations. I think a real misconception with patients of mine whose names are known by the public is that they may be very entitled. I find that infrequently. We had three NFL players in our clinic yesterday and they all got stuck waiting for me, yet they were extremely appreciative. My staff is very tuned in to what their needs are. We treat everyone with the same respect. I enjoy taking care of professional athletes similarly to the kids from Booker T. Washington or Central or Northwestern High School.
Q: What's the worst part about your job?
A:
The worst part is when I have to tell someone they can't play. Whether it's for that season or indefinitely. With a professional athlete, it may be their livelihood; for a college athlete, it may be their dream; and for a high school athlete, it might be an opportunity to go to college. So for me, the hardest people to talk to are the ones who have really bad injuries as seniors in high school or seniors in college because I know that injury is devastating to them in more ways than just physical.
Q: What's the one most important thing that experience has taught you?
A:
Patience. I don't necessarily agree that time heals all wounds. But I do think that patience and communication are very important. And I think that when you're young, or relatively young, sometimes you may not appreciate how important experience is, especially when you're dealing with very complex issues. I think that's the same whether you're on Wall Street, whether you're a Miami-Dade Commissioner, or whether you're the president of the United States. That level of experience, having seen things that have gone well and having seen things that haven't gone well, and putting it all into perspective, is critical. That's probably been my biggest lesson and I'm still learning it every day.
Q: What's the best career advice anyone has imparted on you?
A:
Do whatever you're passionate about. And I know people say if you do what you love it's not really work. That doesn't mean there aren't some long days. But if you really are passionate about your job, you can stay hungry and stay on the cutting edge, and you can really see past all the obstacles. Because no matter what you do, there are obstacles in getting there. Yesterday, we had our residency graduation, and our chairman said that these guys graduated from Year 25. So they had gone through 12 years of grade school, four of college, four of medical school, five of residency. And I was thinking to myself that I'd gone through another two of fellowship and another decade of experience on top of that. So I would say to take things day by day, and if this is what you really want to do, don't let anybody tell you that you can't do it.
Q: What one thing would you do different/better if you could start it all over again?
A:
I think my answers to this question would be more personal than professional. I've put a ton of focus into my career, and I think that enjoying things outside are important. Taking care of yourself, your health and welfare, and doing those outside activities, being a well-balanced individual, are critical to becoming successful. There are very few fields that I can think of where the people at the top are working from 9 to 5. You really have to be willing to roll up your sleeves at the spur of the moment when people need you and that's really when you get the chance to prove yourself. You don't necessarily know when that door is going to open. You have to be ready, so if you get your opportunity, it's showtime. One of the best pieces of advice I ever got was the three As. Be available, be affable, and have ability. If you're missing any one of those, you're going to have a hard time getting things done.
Q: What's your favorite South Florida charity?
A:
The first is the Sylvester Cancer Institute, which is the University of Miami's cancer center. We've had a lot of family history of cancer and I believe in what they are doing. The second is something we started here, called the
Ambassador Program
. We started it last year, and this year, on July 29, we're going to have another Life Skills Course at the hospital. We had a lot of big-time speakers and we'll do it again this year, between athletes and people in the community. It's a program designed for young people to pick up life skills in terms of using athletics as a vehicle to get their education and career opportunities lined up. And using athletics to make sure they're better prepared for the future. It was something we started because I got irritated after
[Kendall Berry]
got stabbed at FIU. We had some patients who had issues with guns and then
[Jasper Howard]
died at the University of Connecticut from getting stabbed.