South Florida's Best and Brightest
Originally published: Sunday, May 1, 2011 (12:02:02 a.m. ET)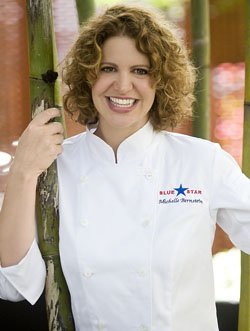 Celebrity chef and TV personality Michelle Bernstein. (Photo courtesy of Michael Pissari).
Michelle Bernstein
She made her culinary bones at a pair of the Magic City's most popular and well-regarded eateries, Tantra on South Beach, and then Azul inside the opulent Mandarin Oriental hotel on Brickell Key. These days, two of Miami's very best restaurants are all hers, Michy's and Sra. Martinez. Michelle Bernstein is not just locally acclaimed but nationally renowned as well. She was presented with the prestigious James Beard Award in 2007 and has been cited by critics in both "Esquire" and "Food & Wine Magazine" as one of America's preeminent chefs. Additionally, she has launched her own line of cookware on the Home Shopping Network called "michelleB Forged Aluminum," authored a book called "Cuisine a Latina," (Houghton Mifflin Harcourt, 2008), and has competed against Bobby Flay on The Food Network's reality show, "Iron Chef America," a competition she incidentally won. Bernstein, who graduated with honors from Johnson & Wales, also served as a co-host on TFN's "Melting Pot" in 2009.
Q: What advice would you give youngsters who want to embark on a career in your industry?
A:
Do your homework well. It's not as glamorous as it looks on television. You actually have to learn how to work in a professional kitchen, which takes a huge amount of discipline, sweat, and time away from your loved ones. It's not as pretty as it looks. Many, many years go into the learning of how to be a professional chef, and maybe a television personality.
Q: Of what professional accomplishment are you most proud?
A:
Probably my James Beard Award as Best Chef in the South. The James Beard Awards are like the Oscars of food. It's something, as chefs, a lot of us dream of, but think can't actually happen in our lives. They are something that people in the industry have to vote on, so it means you're well-respected, which is such a huge part of what we work toward.
Q: What's the most challenging part about your work?
A:
You name it. Maybe the 15 hours a day on your feet. Working in extreme conditions, hot and cold. A lot of sharp utensils. A lot of fire. A lot of egos. And tempers flaring. The fact you miss most holidays with your family and friends. You never get to have a night out on a Saturday. It's probably been about 10 years since I was out on a Saturday night, unless it was an event that I had to cook for.
Q: What did you envision doing for a living when you were growing up?
A:
I thought I was going to be a prima ballerina. I danced a bit in New York and then realized that it just wasn't what I dreamt what it would be. I started to dance at the age of about 3 years old.
Q: In ten years' time, I will be _________________.
A:
Standing a lot less. There are a few things I want. I would like to start enjoying some of the fruits of my labor. I would like to spend more time with my family. And I'd like to take a true vacation without any work involved and not take a laptop with me for once.
Q: Who are/were your professional role models and why?
A:
Daniel Boulud is one of my favorite people in the industry. He is a gentleman in and out of the kitchen and an amazing talent. And he is very respected among his peers. I think Emeril [Lagasse] is amazing because, no matter how famous he is, he is incredibly friendly to everyone he meets and works around, and he always remembers your name. David Chang in New York, who now has maybe four or five restaurants. He's probably one of the most talked-about chefs in the country and he maintains humbleness.
Q: If you could do anything else in the world for a living, what would it be?
A:
Teaching dance as therapy. I love helping people and I love being around young people who don't have the same advantages that I had when I was younger. To be able to help people who are less-fortunate would be incredible. I do that now with foundations that I started here in South Florida, trying to help kids through cooking.
Q: What's the best part about your job?
A:
Being able to make people smile when they eat our food. It's incredible that something as simple as a meal can make people happy. I'm not in the dining room too much; I'm in the kitchen most of the time. I will come out when I'm asked. I'm a little on the shy side. My mother pushes me to do it more. She's the reason why I cook and the reason why I'm so passionate about food. She got me started in this craziness.
Q: What's the worst part about your job?
A:
It takes so much time and it's impossible to be controlling over absolutely every aspect of it. I'm a bit of a controlling personality in the kitchen, not out of it. And you can't control everything. If some guy working over in the salad area puts out a tuna tartar with way too much soy sauce and chili oil, I'm not going to be able to taste it. If I look at it as it's going out the door, and I happen to turn around at just the right moment, I'll have him remake it. But you just don't have control of everything. It's impossible and it's not an exact science, which tends to make me a little crazy at times.
Q: What's the one most important thing that experience has taught you?
A:
That I'm never going to be the best at anything. And that I need to make sure I maintain humility, with no ego, and just remember that I always have to improve. That I always have to get better and make everyone around me better.
Q: What's the best career advice anyone has imparted on you?
A:
Doug Reese, who was my chef a long time ago, told me that I should never consider myself any different from any male chef, that I should be the best chef I can be. That I shouldn't worry about the male-female division, which at that time, back in the early-1990s, was huge because there really were no women I could look upon or get advice from. He told me that and it changed the way I work in the kitchen. It's true, I shouldn't think of myself as a woman chef, that I shouldn't think of myself as anything other than a chef, and a hard-working one who wants to do a good job and make people happy.
Q: What one thing would you do different/better if you could start it all over again?
A:
I wouldn't have become a chef as quickly. I would have stayed a cook much longer so I could have learned that much more as I practiced under someone else's teach. I could have had my trial and error [period] more under someone else's reign. To me, I became a chef rather quickly. You're a cook for years and eventually you become a sous chef and then a chef. I wish I'd been one of those kids longer. I guess it was about seven years, which I know sounds like a lot, but it really isn't.
Q: What's your favorite South Florida charity?
A:
Common Threads. We started [the foundation] just a couple of years ago, teaching under-served kids nutrition and socialization skills, and about cultures and cuisines through cooking classes. It's once a week and it's an after-school program. You take these under-served kids who have never had dinner with their families before, they've never actually sat down to a regular dinner, something we take for granted every day. They go home, and if they're lucky, they get fast-food. Cooking is instant gratification, and I always wanted to teach that to kids. It can take 10 minutes or an hour to make a meal. It's instant and that makes it very gratifying, to give them something they can be proud of. Teaching them how much healthier it is when you cook for yourself and that eating green food is not going to kill you. To teach them that there is a world out there of culture and flavors and ethnicities, you make them better kids, all in one cooking lesson.