South Florida's Best and Brightest
Originally published: Sunday, May 1, 2011 (12:02:02 a.m. ET)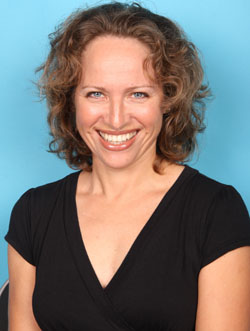 Miami Heat/AAA Executive VP & General Counsel Raquel Libman. (Photo courtesy of the Miami Heat).
Raquel Libman
Her job is the one every kid in every South Florida law program must envy the most. Can't be any other way. But while it seems glamorous toiling in a top-level management position for the NBA's sexiest franchise, all it means for her is an Everest-sized workload. As Executive Vice President and General Counsel for both the Miami Heat and the AmericanAirlines Arena, Raquel Libman deals with legal matters related to, well, all aspects of all departments. To name a handful: player contracts, naming rights, league regulations, trades, and intellectual property. And that's merely on the basketball side. The building that houses her office is leased out for dozens of special events throughout the year. And when those concerts, conventions, and award shows come to town, she serves as the first and final line of defense when it comes to protecting her employer from any liability. Libman did her undergrad work at Yale, studied for one year at Oxford, then earned a law degree from the University of Miami.
Q: What advice would you give youngsters who want to embark on a career in your industry?
A:
I saw something great the other day. It said, "You are happiest and most successful when you learn, develop and work in ways that make best use of your natural intelligences (our strengths and style and brain-type, in other words)." I spend a lot of time talking to students about their career paths. I always advise them to pick careers that make best use of their natural intelligences and strengths, and that they shouldn't make career-path decisions based upon perceived success. Professionals, on average, will spend more waking hours working than relaxing, so if given the choice, you are much better off doing something you love. If you love what you do, you are more likely to be good at it. If you excel in your work, people will want to work with you, and invariably, interesting opportunities will present themselves.
Q: Of what professional accomplishment are you most proud?
A:
Fortunately, I have had a really interesting professional career that literally has spanned the globe, so there are a number of achievements of which I am proud. However, wrapping up my 10th full year here, I'd have to say that I am particularly proud of the fact I have had some small part in helping to break the glass ceiling for women in professional sports. This is still very much a male-dominated industry, and in terms of following my own advice, I would never want to spend this much time working anywhere that I did not happily go. As hard as it is for me to leave my children each morning, I truly look forward to coming to work every day.
Q: What's the most challenging part about your work?
A:
The most challenging part of my work is probably [dealing with] the range of issues that comes across my desk on any given day. I have a very Type-A personality, and so I have a tendency to want to fix every problem that arises (oh yeah, wait, that's my job) and the pace is often times very brisk. It certainly keeps me on my toes. A general counsel's job entails having a certain level of general knowledge about a wide range of topics. It's really impossible to be an expert in everything. So part of the basic knowledge that a person in our profession should possess is knowing when to get an expert involved.
Q: What did you envision doing for a living when you were growing up?
A:
I think I always expected to end up in the Foreign Service. I suppose it isn't too late, although given the ages of my children, I don't see it in my immediate future.
Q: In ten years' time, I will be _________________.
A:
Right here if I'm lucky. If you happen to come looking and I'm not behind this desk, then perhaps you should try the Foreign Service.
Q: Who are/were your professional role models and why?
A:
I've had a number of teachers and professors who have had a profound impact on my life. I've made a point of staying in touch with a number of them over the years in the hope I would be able to express adequately my gratitude. However, I'm in this particular profession in large part because of a woman who was the general counsel of the international trade and project development company I worked for right out of college. I was so impressed by her intelligence, business acumen, and ability to close deals. From my vantage point, the job appeared to be a combination of business and law, and that was very appealing. She performed her duties from a place of strength and with grace. I wanted to emulate her and thought I could do so successfully.
Q: If you could do anything else in the world for a living, what would it be?
A:
I love to read. I really don't watch any television other than basketball games. So the answer is an author. In particular, I'd like to be an author who has a real talent for articulating the challenges and complexities of the human condition. When you pick up a book and start reading, you know pretty quickly whether you are reading a book written by someone with that special gift. It's a talent I highly admire and respect. I don't think I have it, but dreaming is free.
Q: What's the best part about your job?
A:
That's easy. Three things. The range of issues that comes across my desk on any given day and the people I work with. It's really that simple. I have an interesting job and work with amazing people. Also, it makes me really proud to work for a company that is such a good corporate citizen because the Miami Heat Charitable Fund really does a lot for and in the community.
Q: What's the worst part about your job?
A:
The stress. It ages you. There really is no bad part about this job. The people in this organization are truly special, from the ownership on down. There is always something new happening. But the pace is very frenetic and therefore it's very stressful.
Q: What's the one most important thing that experience has taught you?
A:
Never underestimate the importance of common sense. Obviously, education is paramount in any professional career, not to mention the role it plays enriching the fabric of one's life. But the combination of intellectual acumen and common sense is very powerful, and it's much more difficult to fall into the temptation of believing that there are shortcuts to achieve success.
Q: What's the best career advice anyone has imparted on you?
A:
I'm not sure whether this qualifies as the best advice I've ever gotten, but in my first job out of college -- and we're talking about a time during which there were hardly as many women in senior management as you see today, especially not in male-dominated industries -- the CFO told me that he always prefers to go into battle with a female colleague because (as a generalization, of course) men and women bring something unique to the negotiating table. And the result is always better when you have that diversity. That really gave me so much confidence and allowed me to believe in my heart that I brought something of value to each subsequent employer, especially in the male-dominated industries. You certainly don't want to overdo it, but you have to have confidence in your abilities. When it's not exaggerated, it's contagious.
Q: What one thing would you do different/better if you could start it all over again?
A:
I would have had more confidence in my voice at an earlier age, and not be afraid to ask for help when I needed it. I think I thought that asking for help was a sign of weakness, as opposed to being part of the learning process. The result of that mentality is to close doors on yourself for no good reason.
Q: What's your favorite South Florida charity?
A:
The HEAT Group has a history rich in community involvement. The Miami HEAT Charitable Fund was established in 1997 and does many important things, but mainly focuses on three areas. The first is to support programs for the betterment of at-risk families in South Florida. The beneficiaries include SafeSpace, which is a domestic violence shelter for women and children; Jackson Memorial Foundation's Guardian Angels and Holtz Children's Hospital; and the Miami Coalition for a Safe and Drug-Free Community. The second main area of focus is on education. The Charitable Fund provides educational scholarships for high school seniors and partners with inner-city elementary schools to fund the HEAT Academy, which provides after-school tutoring and mentoring programs. HEAT Group employees are encouraged to volunteer for HEAT Academy, and employees from the President of Business Operations on down spend time at the elementary schools to ensure those programs are a success. The third focus is our Home Strong program, through which we honor at every home game soldiers who return to South Florida, help support Miami's Fisher House, which provides invaluable service to families of injured veterans so they can be with their loved ones and not have to be separated from their families while receiving medical care, and America's Moms for Soldiers, a program sending monthly "care packages" to soldiers in Forward Operation Bases (FOBs) in Iraq and Afghanistan.