South Florida's Best and Brightest
Originally published: Monday, August 1, 2011 (12:03:32 a.m. ET)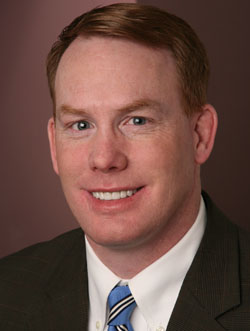 UM Director of Intercollegiate Athletics Shawn Eichorst. (Photo courtesy of UM Athletics Department).
Shawn Eichorst
It is one of the nation's most desirable gigs on any level of athletics, whether on the amateur or professional level. Director of Intercollegiate Athletics at the University of Miami. Or simply, "The U," as the kids have come to call it. When beleaguered Kirby Hocutt departed for Texas Tech in late-February, it took the school barely six weeks to feel completely sure it had found a supremely qualified candidate for the post in Shawn Eichorst. He is a former AD at the University of Wisconsin-Whitewater (his alma mater, where he was a three-year letterman, team captain, and all-conference defensive back), an ex-Senior Associate AD for Administration at the University of South Carolina, and most recently, he served as Deputy AD at the University of Wisconsin-Madison. His first passion was law, and he was a practicing attorney in Milwaukee from 1995 until 1999. Eichorst is a past member of the NCAA Division I Student-Athlete Reinstatement Committee and State Bar of Wisconsin Board of Governors.
Q: What advice would you give youngsters who want to embark on a career in your industry?
A:
First and foremost, the advice that I give, and I am often asked this, that they must have a passion for athletics integrated with higher education. At the end of the day, what we do is educate and prepare young people for the game of life. You have to have a passion for doing that. The behind the scenes sorts of things that we do aren't always intriguing. We don't sit at practice all day and we don't sit at games all day. There is a lot of very important work that we do to prepare our young people to graduate and to move on. Because very few of them professionalize in sports. And when they do, is for a pretty short period of time. Just having a passion and understanding of what we do is of great importance. Once you have a passion for something, that's typically a driver for success.
Q: Of what professional accomplishment are you most proud?
A:
The most challenging parts of what we do have a lot to do with the misunderstanding of why it is we're here. And that dovetails with what I said earlier about preparing young people to get an education and to move on in society. The challenges are separating what we do from the pure entertainment and the pure professional side of sports. It's a challenge to protect not only our brand but our coaches and our student-athletes from the media scrutiny. It's certainly a challenge for folks to understand what our priorities are, and that your resources have to be in line with your priorities and your expectations. Everybody knows that folks have high expectations for big-time athletics. So we have to keep a balance there, that's a challenge.
Q: What's the most challenging part about your work?
A:
For me, having the opportunity to work with such bright and talented young people every day in pursuit of their aspirations and their dreams. That's very rewarding and important to me. I don't think there's one single thing I would look at. It's just the breadth of the opportunity I've had over the years to work with great young people.
Q: What did you envision doing for a living when you were growing up?
A:
I envisioned being a trial lawyer and being in the courtroom and presenting cases in front of juries. I envisioned that ever since I was a very little boy. I had the opportunity to do that for a brief period of time after I got out of law school before I got into college athletics. So I've been able to intertwine my passions for athletics with my professional pursuit of law and it's been a great ride so far.
Q: In ten years' time, I will be _________________.
A:
Hopefully, continuing to be recognized as a good father, a good husband, and a great friend.
Q: Who are/were your professional role models and why?
A:
My role models have been the people I've had an opportunity to touch in my life. They haven't so much been from afar. Folks like my high school football coach and my college football coaches and Dr. Gaylon Greenhill, who was the chancellor at UW-Whitewater who first gave me the chance to get involved in college athletics at a young age. And certainly Dr. Mike McGee who I worked under. He was the AD at USC and working with coach Holtz and coach Spurrier, and most recently, having the great opportunity to work with coach Alvarez. Those people have had a great influence on my life relative to the things I think folks should be focused on. And that's being very ethical, and being very dedicated and passionate, and associating yourself with the right people. And empowering people to do their jobs and letting them do their jobs, not micromanaging. As I was growing up, I never really attached myself to professional sports guys as role models.
Q: If you could do anything else in the world for a living, what would it be?
A:
I'd probably be a coach of some type. Because I have great admiration for those folks and it would allow certainly allow me to continue working with young people. Coaching football, baseball or basketball. Something of that nature. So I'd have to say coaching and teaching in high school.
Q: What's the best part about your job?
A:
The best parts for me have been to move to a world-class city and work at a world-class institution, and getting to know the great people here at the University and in the greater Miami community. And with my lovely wife Kristin, and our three boys, there's a whole excitement and anxiety associated with a transition of this nature. Those are some of the things I've been working through.
Q: What's the worst part about your job?
A:
There aren't any right now. I only see great opportunities and I'm very positive in my approach, so I don't typically look at the negative things.
Q: What's the one most important thing that experience has taught you?
A:
More than anything, to be a good a listener and to be very patient. Those are certainly qualities that I cannot say I always had in my early years. I certainly learned over time that those who listen the most and are the most patient, can be the most successful.
Q: What's the best career advice anyone has imparted on you?
A:
Don't look forward relative to a job pursuit. Stay focused on what it is you're doing. Be dedicated, be loyal, work hard, and good things will happen.
Q: What one thing would you do different/better if you could start it all over again?
A:
Don't look forward relative to a job pursuit. Stay focused on what it is you're doing. Be dedicated, be loyal, work hard, and good things will happen.
Q: What's your favorite South Florida charity?
A:
I haven't had a chance yet to get involved. Typically, we've been involved with the United Way at the places we've been and I would assume Kristin and I will continue with those efforts. We've certainly been involved with ALS functions because of some friends we have who've been afflicted with that ailment. I am sure we'll quickly get integrated in the scene and we look forward to participating in charities in the south Miami area.