South Florida's Best and Brightest
Originally published: Sunday, May 1, 2011 (12:02:02 a.m. ET)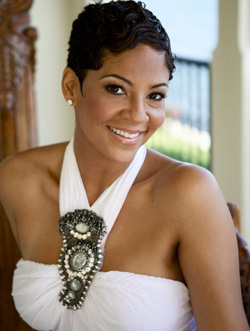 Entrepreneur and philanthropist Tracy Mourning. (Photo courtesy of TWM by Tracy Wilson Mourning).
Tracy Wilson Mourning
While her primary focus has been providing guidance to at-risk girls through the Honey Shine Mentoring Program, there seemingly is nary a foundation, charity, or good cause to which she hasn't lent her support at one time or another since arriving in South Florida in 1996. To compile a complete list of her philanthropic accomplishments would require a truly prohibitive amount of time. It's a genuinely exciting time for Tracy Wilson Mourning. Not only is she readying for Honey Shine's signature fundraiser, the 10th annual "Hats Off Luncheon" on Jungle Island, but she recently oversaw the launch of the Bath & Body Ritual Collection as part of her TWM by Tracy Wilson Mourning line of lifestyle brands. First unveiled during NBA All-Star weekend in Dallas last year, the brand includes scrubs, lotions, body washes and oils, hair care products, apparel, and home goods, and is available for purchase both online and in select high-end salons throughout Broward and Miami-Dade Counties.
Q: What advice would you give youngsters who want to embark on a career in your industry?
A:
Follow your passion and live your purpose. If you're passionate about it, it's not like work if you're doing something you love. And I think everyone should do that. You should never be in a position or a place where you just totally hate what you're doing. Always work toward your goals. Make sure you love what you do.
Q: Of what professional accomplishment are you most proud?
A:
I'm most proud of Honey Shine. It's both a professional and a personal accomplishment, the work we're doing with girls in the community. I'm proud of our growth. We're going into our 10th year. We started out serving only a handful, and now we have more than 120 girls who are registered in the program this year alone. So that's pretty awesome. Specifically, growing our summer camp. We started out with a one-week camp, and this year, we are going to have six weeks. Our community support has been amazing. We had maybe 50 women at our first luncheon at Nikki Beach and now we have 500 women who attend the luncheons.
Q: What's the most challenging part about your work?
A:
My mind is the creative piece, that's what I love to do. So taking the time to sit down and ensure that the business part is handled, finding the patience, that, for me, is the most challenging part. I get it done, but I'd rather be always creating.
Q: What did you envision doing for a living when you were growing up?
A:
I've always wanted to be a designer and a sports commentator. I feel like I've tapped into both of those.
Q: In ten years' time, I will be _________________.
A:
I'll be able to look back on the growth of our company,
(http://www.HoneyChild.Net)
, and I'll be very proud of both the gains we made and the fact we're a strong presence in our industry.
Q: Who are/were your professional role models and why?
A:
My mommy, for one. And I know she would say, 'How can that be?' But she's always been a role model in every aspect of my life. She cleaned houses for a living. She had keys to everybody's house in [Las] Vegas and everyone trusted her. And her work ethic was always the best. She's never done wrong by people. You treat people how you want to be treated and people will always respect you. She could always go back if ever she needed anything from anyone she's worked with and they would give it to her. She's the main one. There were others, like Mr. Bill Cobsy and Mrs. Camille Cosby. Through their passion, I was able to go to college. I received a scholarship from them. Mr. Cosby would always say to have a love for learning. That always stuck with me. I watched him in his career and how he's always given back and supported the community.
Q: If you could do anything else in the world for a living, what would it be?
A:
I think I'd like to be a pilot. Or a professional surfboarder. "Jaws" really affected me as a child and being a professional surfer would be really stepping outside of my comfort zone. But I am starting with paddleboarding. That's my entree into one day hopefully being a professional surfer.
Q: What's the best part about your job?
A:
There are a couple of things. It's such a blessing to be able to work for yourself, so that's definitely a big blessing. But I really love the responses that we receive from women who love the products and the message of the products. We call it our "message in a bottle." They really connect to that, of taking care of that goddess, connecting to the goddess, the soulmate, the mother, the friend. That's such a great reward, right there, when women really love the product and love the message. When I see them taking time for themselves.
Q: What's the worst part about your job?
A:
I guess I'm having a [difficult] moment with this one because I know you have to go through the tough stuff to get to the good stuff. Making sure you're manufacturing your production piece. And relying on other people to make sure something gets done right; I don't like having to do that.
Q: What's the one most important thing that experience has taught you?
A:
Experience is a good teacher, is what my mom always says. You can't give up. You must keep going. Because what's the alternative? You can't quit, that's what experience has shown me. You have to keep moving forward with your dreams. And I go back to that. Follow your passion and you'll live your purpose. When I have followed what I'm passionate about, it has led me to something more purposeful in my life.
Q: What's the best career advice anyone has imparted on you?
A:
Something that [Miami Heat managing general partner] Micky [Arison] said to me was that his father didn't just start with one business. If one didn't work, he went on to the next one. So that always stuck with me. You just don't do one thing, and if it doesn't work, you quit. He kept trying and trying and trying. That was very important to me, to hear that from a man with so much influence. You can't be discouraged by one try. You have to keep trying new things.
Q: What one thing would you do different/better if you could start it all over again?
A:
If I could start all over, it would be to have a better plan mapped out first, as opposed to just going for it. For me, when I first started, it was about wanting to make 50 denim jackets and not realizing that I still had to buy 500 buttons. So doing my homework even more.
Q: What's your favorite South Florida charity?
A:
Of course, it's the Honey Shine Mentoring Program. Because we are encouraging young girls to shine as women. I'm very, very proud of that. And I'm proud of the support we have with our community. We have 500 women coming to our "Hats Off" luncheon on May 3. It's [an event] where everyone wears a hat and we auction off handbags and beauty items, and it becomes really intense. Our auction, I believe, is the best silent auction in South Florida, as the women go crazy over these bags. It's serious out there. They stand guard over them. Women don't play when it comes to their purses. It's just a fun experience. It's our largest fundraiser and a great time for women to come together. And some of our Honey Bugs who have shown promise throughout the year get to participate.