South Florida's Best and Brightest
Originally published: Tuesday, March 1, 2011 (12:00:01 a.m. ET)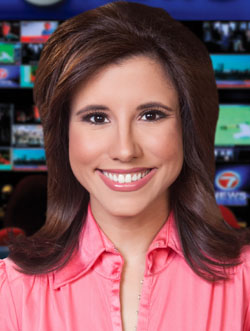 WSVN weekend meteorologist Vivian Gonzalez. (Photo courtesy of WSVN).
Vivian Gonzalez
For better or worse, weather affects the personal and professional lives of the residents of South Florida to a greater extent than in any other region in the country. And no one delivers a forecast on-camera in more silky-smooth fashion, or with greater clarity, than 27-year-old Vivian Gonzalez. A member of The National Weather Association and the American Meteorological Society, Gonzalez swears up and down that she's never wanted to do anything other than predict and report weather, dating all the way to her formative years. Upon graduating from Florida International University with a degree in Geography, Gonzalez joined WSVN (Channel 7) as a weather producer in 2005, the year that went down as the one containing the busiest Hurricane Season in Sunshine State history, and she was promoted to an anchor position two years later. You can catch her throughout WSVN's back-to-back news hours every Saturday morning beginning at 8 o'clock.
Q: What advice would you give youngsters who want to embark on a career in your industry?
A:
The advice I would give to anyone who wants to be a meteorologist or would like to be in the atmospheric science realm (multiple career opportunities) would be: "Go for it with all you got!" Remember when one door opens, it is your opportunity to prove to everyone, but most importantly to yourself, that you can do the job and you can do it well. This business is difficult to break into, and everyone I come across tells me that rarely does someone start their career in a major market. The norm would be to start in a smaller market, make your mistakes, gain experience, and then move your way up. But anything is possible. Look at me. I am living my big weather dreams and I feel so blessed. My success is due to the wonderful support system I have. When I started at WSVN in 2005 as the weather producer, during hurricane coverage, General Manager Robert Leider approached me to ask me a few weather-related questions and asked me for a tape. At the moment, I did not have one, but he gave me the green light to work on my material. If it would not have been for Chief Meteorologist Phil Ferro, Vice President of news Alice Jacobs, dear friend George Sarkees (photographer and training coach), and my family who believed in me and pushed me to reach to my full potential, I would not be where I am at today. I am eternally grateful to them for giving me the opportunity to grow professionally, but most importantly to do what I love.
Q: Of what professional accomplishment are you most proud?
A:
Aside from reaching the airwaves, obtaining my Bachelor of Science degree in Meteorology and the American Meteorological Seal of Approval. Although, I admit they were probably the most difficult and gratifying experiences of my life. I was always very dedicated to school and I was heartbroken because I could not afford to go to the only school in South Florida at the time that had the only program I wanted to pursue. I proceeded to attend Florida International University and studied a field that would help me eventually attain my goal. I majored in geography and minored in mathematics and Spanish. In 2005, during my last semester at FIU, I interned at Telemundo 51 where I met Phil Ferro who crossed over to WSVN a month prior to my internship came to an end. Three months after graduating, I joined WSVN as the weather producer. Once I started working, I enrolled in the Mississippi State University Distance Learning Broadcast Meteorology Program and obtained my broadcast certificate in Meteorology while on-air. However, the overachiever in me told me it was not enough, so I decided to talk to a counselor and found out that I had only a few classes to complete in order to attain my actual Bachelor's in Meteorology. In two semesters working full-time, planning a wedding, and taking night classes, I finally accomplished my lifelong dream. Of course, I'm most proud of being able to have completed all of those things at the same time!
Q: What's the most challenging part about your work?
A:
The most challenging part of my job comes during rainy season and during hurricane coverage. It is my obligation to the community to provide the most accurate information, including the visuals to support such important data. For example, when we have a severe thunderstorm warning issued, we have to set up the radar, get a graphic together showing the area under advisory, and then run out to the studio to break into programming. It is a matter of seconds that seem like an eternity. The real challenge comes in translating the information out to the public. It is my responsibility to keep viewers safe.
Q: What did you envision doing for a living when you were growing up?
A:
Not a lot of people can say they knew what they wanted to be when they grow up from the age of seven. I always told my parents that I wanted to be a meteorologist and I bet they wondered at times if I really knew what that meant. Growing up, I would imitate meteorologists as they would go through their weather segments. There is even evidence of my parents taking videos of my sisters and me during our summer vacations and I was reporting the weather at the beach. Sand pail in hand, the tiny shovel as my microphone, the pounding waves to my backside. In fact, in one of those videos, I signed off, "Vivian Gonzalez, 7 News." No joke. At such a young age I was fascinated by the weather elements that I could describe every cloud type.
Q: In ten years' time, I will be _________________.
A:
I'll still be working in television, God willing, or possibly working at the local weather office here in Miami.
Q: Who are/were your professional role models and why?
A:
My mother. Her ability to juggle a career, home, and family is truly inspiring. She reached the position she did through her hard work and dedication. I can definitely say that I take after her in more ways than one. My mother left Cuba and lived in Spain for five years and then she moved to Miami. She learned the language and earned an associates degree. Sure enough became the Vice President of Operations for the Miami branch of Barclays Capital Bank. It is a woman like my mother who really set the bar high for women in the corporate business environment and are true examples that you can have it all if you are honest, dedicated, and professional. On top of everything, she really made it a point alongside my father and grandmother to make sure my sisters and I grew up in a wonderful household. Her values and love for family, I think, pushed her to reach the position she did.
Q: If you could do anything else in the world for a living, what would it be?
A:
I enjoy being a part of the community teaching children about math and science. Every school year, I get invited to multiple Career Days. I give a presentation and weather lectures to science classes, so I guess a math or science professor would be something I could see myself doing for a living.
Q: What's the best part about your job?
A:
Receiving messages and feedback from viewers who are happy with my work brings an indescribable sense of fulfillment that makes my job worthwhile. I feel that presenting the weather (or the knowledgeable presentation and delivery of information) is a form of art, and to me, an exciting part of my job is coming up with different ways to make the story interesting. Yet, I want to provide the viewers with the information needed to get through their day. This is where the weather producer in me shines. Having the advantage of thoroughly knowing the computer systems makes my job easier. Aside from analyzing and interpreting the information (weather data) at hand, I am able build my weather models and shows around the story for the day.
Q: What's the worst part about your job?
A:
I think the schedule would probably have to be the most difficult part of the job. Although I love what I do, people are always shocked at how early I have to be up and at work. I am the go-to-girl whenever a co-worker is on vacation or out sick. I cover for them, so I have had to learn to be a morning- and night-person. Trust me, coffee becomes your best friend. Can't live without my Cuban coffee or my electrical Cuban coffeemaker we have in the 7 Weather office. It comes in real handy during hurricane season, as well.
Q: What's the one most important thing that experience has taught you?
A:
I think experience has taught me patience, and patience has taught me that I can only improve on my craft day-in and day-out. I look at the big picture now and that's my development as a professional throughout the entire experience, development throughout my entire career. My desire is to be the ultimate professional, but that takes constant development. Most importantly, that takes patience.
Q: What's the best career advice anyone has imparted on you?
A:
The best advice that I have been given is always be professional. Being professional is respecting yourself and everyone you work with. Another great piece of advice was "never stop learning."
Q: What one thing would you do different/better if you could start it all over again?
A:
I really believe that everything in life happens for a reason. My faith and desire to reach my dream has kept me and keeps me motivated. Life is a constant learning experience. What doesn't kill you only makes you stronger, and in the end, only makes you appreciate so much more what you have. I read a good quote once: "The tears will happen ... endure, grieve, and move on." So I wouldn't change a thing. No do-overs.
Q: What's your favorite South Florida charity?
A:
The Make-A-Wish Foundation is one. As a Miami native, it makes my day being able to give back in some way for the loyalty I have received by so many viewers tuning in and making me a part of their homes on the weekends. That is why it is difficult to pick only one single charity that is my favorite. However, for me, family is the most important thing in the world, and in the difficult times like our country is currently facing, and when a disease like cancer hits close to home, it really makes me see things from a different perspective. As a result of personal family experiences, I have been more involved in Habitat for Humanity projects, the Susan G. Komen Foundation and The League Against Cancer.